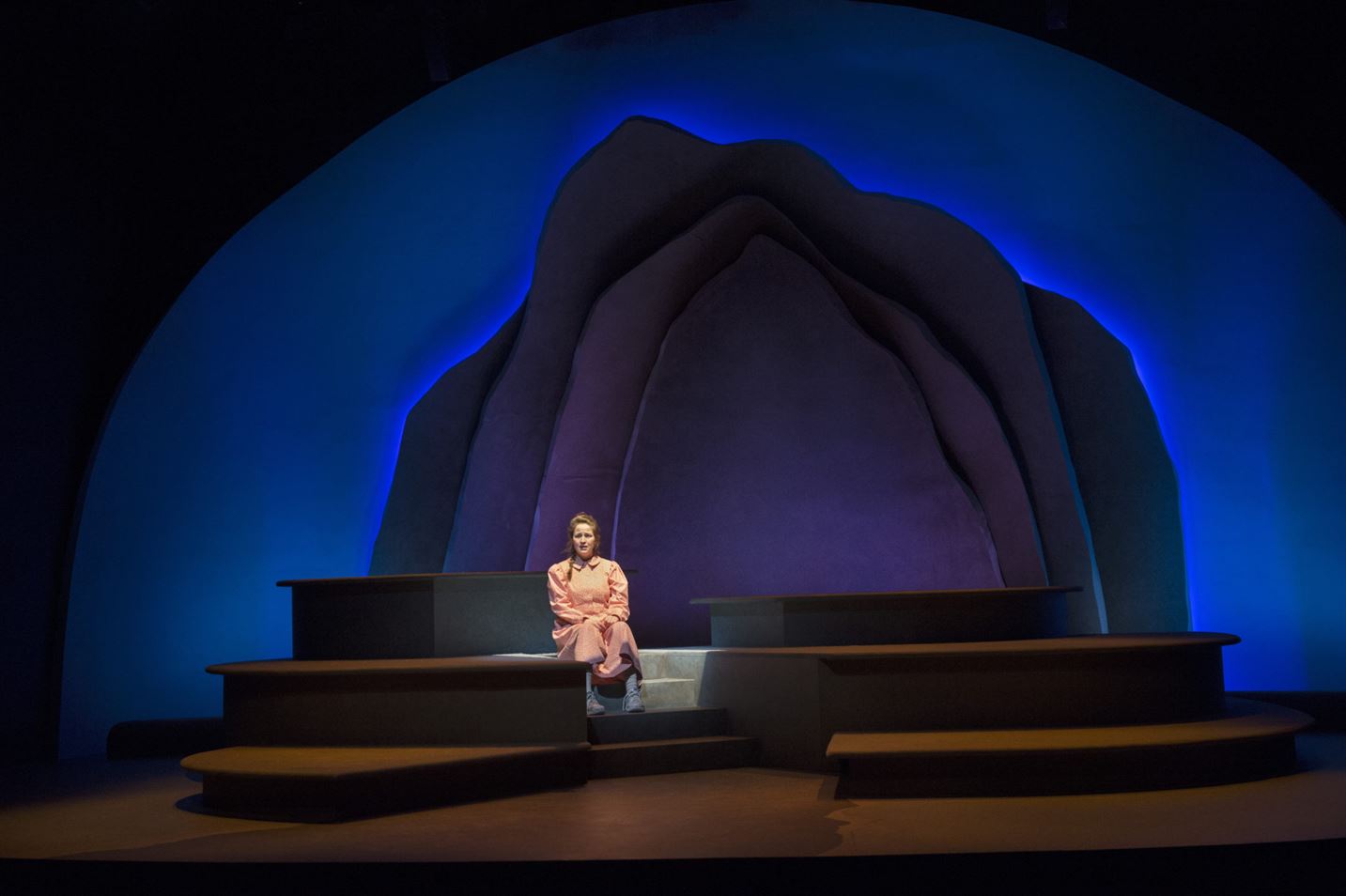 Gracie starts her story when she is 8 years old. She moved from the Utah to British Columbia, Canada with her mother and her siblings. She isn't clear on why she's moving but that isn't as much of a concern for her. She doesn't mind her new house, as it's pretty spacious and she gets a doll as a gift from her soon to be friend Ally. It turns out that Gracie lives in the community of the Fundamentalist Church of Jesus Christ of Latter Day Saints and we follow her story from age 8 through to 16 in the newest play by Joan MacLeod presented by Alberta Theatre Projects.
Gracie is a story full of innocence and starts out with Gracie (Lili Beaudoin) arriving at her new home. She meets Mr Shelby who seems to run and own the house and appears to be nice enough that she doesn't have feelings one way or another when Gracie mother marries him. Gracie has very little in the way of possessions and takes comfort in the macaroni craft of her name that she carries around with her. She also gets a new bike and life in this new home doesn't seem so bad. She doesn't really like school, most especially arithmetic, but she likes spending time with her brother and taking care of her new siblings. But things keep popping up in her world that makes her a little uncomfortable. Her sister Celeste is married off to Mr Shelby's brother almost right away and doesn't seem quite happy with the situation. Her brother doesn't live with them and doesn't seem to be part of her community, but Gracie can't really put her finger on what seems wrong to her about this. She and her friend Ally, who lives across the street explore the creek and dream of what they want to do when they grow up. As Gracie gets older she starts listening more to what her siblings tell her and starts to question the way things are around her. She wants to be loyal to her family and faith, but something within her cracks when the time comes for her to get married.
The remarkable thing about MacLeod's script is that gently exposes the story, but it's all from Gracie's point of view. She is all innocence wanting to live her life and belong but there are these aspects of her life that concern her. Like her mom being pregnant again, though she almost died the last time she bared a child. Or Celeste not being happy about her marriage and not doing exactly what her mom tells her. It's a beautifully crafted story, performed candidly by Beaudoin who is able to embody innocence and wonder. It's a story about a girl in a polygamous community who gets to tell it from her point of view.
Catherine Hahn's set design is a bit of an odd choice with what looks like a cave-like structure in the background and risers along the front of the stage. Narda McCarroll's lighting design puts the spotlight on Beaudoin in moments of intensity.
Gracie is a well put together, well-told story, surrounding a controversial topic. It's a compelling take, though a fictional one, from Gracie's point of view.
Alberta Theatre Projects' Gracie runs until March 18. More information is available online.
Photo Credit: David Cooper
---