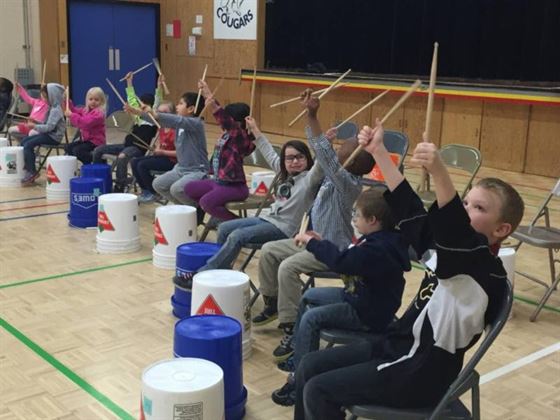 On March 14, 2017, the Calgary Philharmonic and Fairmont Palliser will host an evening dedicated to the outreach, development and education of under-served kids in our community.
Thanks to the vision of long-time Calgary Philharmonic supporter Judith Kilbourne, and our community partners, we are proud to offer PhilKids, an after-school musical program for children who would not otherwise have the opportunity.
PhilKids unlocks children's creative potential, helps develop collaborative skills and provides positive social reinforcement.
The Orchestra will play a live concert in the Crystal Ballroom at the Fairmont Palliser and there will be a special performance by the PhilKids Bucket Band.

Keeler Elementary School has been providing up to 50 students, between Grades 1 and 5, the after-school program on a weekly basis. The program gives these students the opportunity to work closely with musicians from the Calgary Philharmonic that have been selected for this unique program. The program uses a multi-faceted approach by introducing musicality to children to develop and improve musicianship, rhythm, creativity, self-expression, performance and cooperative learning and goal achievement.
What: PhilKids Benefit Concert
Where: Fairmont Palliser, Crystal Ballroom
When: Tuesday, March 14, 2017. Doors open at 7 PM with concert to follow at 7:30 PM.
*Admission by donation
Source: PHILKIDS, Calgary Philharmonic Orchestra
---