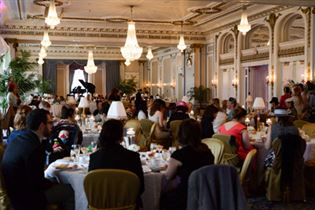 When you think about a mid-day outing, you might be surprised to learn that heading for Afternoon Tea has become the thing to do.
The Fairmont Palliser hosts Afternoon Tea Monday through Saturday. One such event coming up is High Tea in Style on March 22, in support of Cork & Canvas – the Calgary Philharmonic Orchestra's annual art and wine fundraiser.
Christopher Fehr, Food and Beverage Outlets Manager at the Fairmont Palliser, thinks the Royal Wedding made having a 'cuppa more popular.
Fehr started last year at The Palliser, and says Saturdays were a hit or miss – at the most, 10 or 12 people would come in for High Tea.
"Now we're at a point where we're booked six weeks out," he says, adding that everyone from kids, families and young professionals come for tea.
Fehr says The Palliser offers a menu that's steeped in tradition.
"That's due to the fact that we're 100 years old. We offer a classic menu with pastries, tarts, and scones," he says. "Our guests are really enjoying the current traditional offering."
Love tea? You'll be in heaven.
"We pride ourselves on our larger selections of teas," explains Fehr, who says the selection ranges from Kyoto Cherry Rose to Earl Grey.
"And the great thing is we offer our guests 12 to 16 options while they are at the table."
Fehr walked us through the High Tea routine.
"First it's a fruit cocktail, which is served in a small martini glass. This tides you over while your tea is steeping," Fehr explains.
"By the time the tea is done steeping, pastries are delivered to the table. Lots of people start with the scones because they are brought up straight from the bakery."
Ultimately, High Tea is about relaxation.
"It's about the experience at the end of the day. You have your own individual tea up and tea pot, and it gives you a sense of calm," says Fehr. These days with life, it's hard to take five minutes to yourself. Taking half an hour out of a busy week lightens the load."
---