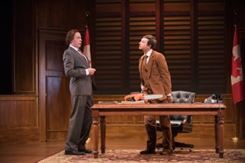 Alberta Theatre Projects' 1979 could be viewed as a play for only the politically minded. Micheal Healy's new play takes an intimate look at Joe Clark, in the year 1979, just before the minority Conservative Government fell because they didn't pass the budget. Clark lost his job as Prime Minister, having held the position for 9 months less a day. As an audience member of ATP's play, you don't have to know all this. The production of 1979 is smart and funny, with the perfect blend of talent and direction, making it a complete pleasure to watch. It also subtly compares politicians from back then, to now. It's a callback to a time when the primary goal was the serve the people of Canada.
The play is brilliantly staged and directed, starring Philip Riccio as Joe Clark and cycling Christopher Hunt (Actor 'A') and Jamie Konchak (Actor 'B') as all other characters. Hunt opens as Finance Minister John Crosbie, shouting over Clark's music. Throughout the play, we meet Flora McDonald (Konchak and Hunt) Secretary of State for External Affairs, Pierre Elliot Trudeau (Hunt), Clark's wife Maureen McTeer (Konchak) and a series of politicians thrown in to make the play all the more amusing.
Healy took creative license in his telling of certain aspects of the play and this is explained in a running projection (designed by Scott Reid) describing facts from fiction and is quite cheeky at times. It is all entirely set in the Prime Minister's office, on a tilted stage in the Martha Cohen Theatre also designed by Scott Reid. The set features wood panelling on all the walls, with the desk central on stage.
1979 features stellar acting. Riccio is Clark down to his shoes and the timbre of his voice. Hunt has a side-splitting portrayal of Trudeau and Konchak shows her comedic skills as Harper. The script is full of nods and winks to the comedy of our politics and the politicians that we know so well.
The play features smart and calculated direction from Miles Potter with smart lighting design from David Fraser and fitting sound design by Thomas Geddes. Alberta Theatre Projects' production of 1979 is a winner.
Alberta Theatre Projects' 1979 runs until April 22. More information is available online.
Photo: Christopher Hunt and Philip Riccio 
Credit: Benjamin Laird
---