ALBERTA THEATRE PROJECTS PRESENTS 1979 | April 4-22, 2017
This hilarious battle of wits is based on true events. The year is 1979, and our hero is Prime Minister Joe Clark: young, idealistic, and stubborn. He's in his office, deciding if he should put his first budget before Parliament. He knows that if he does he could lose everything. Everyone begs him not to do it: his wife, his colleagues… Brian Mulroney, Pierre Trudeau… They tell him he should pull some strings, make some deals. Compromise. But like we said, he's stubborn.
This sparkling and rowdy political comedy is a hugely relevant debate about leadership and power.
"This unbelievably funny play takes us inside the corridors of power to meet some fascinating figures in Canadian politics. No matter where you stand, or even if you don't follow politics, you'll relish these great characters and their sometimes questionable shenanigans."- Artistic Director, Vanessa Porteous
Audience Advice: Mature Content
Showtimes vary, please see website for details at artscommons.com.
WINTER GROUP SHOW 2017: FEATURING DOROTHY KNOWLES | Until April 18, 2022
A fabulous selection of some of our great contemporary Canadian artists, including: Nancy Boyd, David Newkirk, Kenneth Lochhead, Ted Godwin, Erin McSavaney, and Harold Town, and more.
AND we are proud to announce the addition to this show and our roster of artists: DOROTHY KNOWLES
Dorothy Knowles (b. 1927, Unity, Saskatchewan) is one of Canada's top landscape painters.
A turning point in her career came at an Emma Lake Artists' Workshop in 1962 when she was encouraged by the American critic, Clement Greenberg, to pursue painting from nature regardless of the contemporary predominance of abstraction. Her works bring to life the rich and colourful landscapes that surround her home and studio and her paintings have found homes in some of the most prestigious museums in Canada.
Visit Wallace Galleries website at wallacegalleries.com for more information about this exhibition.
VIVACITY: FINAL SHOWCASE 2017  | April 12, 2022
Vivacity is an inter-institutional collaboration between six post-secondary institutions and Calgary Economic Development (CED). Vivacity engages interdisciplinary teams of students in the re-imagination, design, and activation of underutilized and vacant spaces in the city.
Throughout the Winter semester, students immersed themselves in Calgary's downtown while attending classes in one of Aspen Properties vacant office spaces. Over the past 3 months, students have been exploring, researching, testing, and prototyping new uses for vacant office space in the city's downtown core.  Four student projects will be showcased: FORGE, 3RD SPACE, IRENIC, & ROOST and attendees will have an opportunity to tour the project spaces and vote for the venture with the most promise.
Please join us for a very special evening in which together, we will explore the work of a very talented and engaged group of students from diverse academic backgrounds and post-secondary institutions! The evening will be catered with beer and wine available for purchase. Your ticket also includes your voting password so that you can cast a ballot in support of your favourite project.
Tickets: $5 for students, $10 for general admission
When: Wednesday, April 12th, 2017 (Doors open at 5:00PM)
Where: 150 9th Avenue SW. Please enter on 1st SW and follow the signs to the 26th floor
Tickets can be purchased on Eventbrite by search "VIVACITY: Final Showcase 2017". For more information on Vivacity, visit their website at vivacityyyc.com.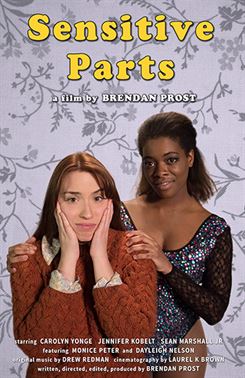 WORLD PREMIER OF SENSITIVE PARTS | April 13, 2022
Calgary born filmmaker Brendan Prost will debut his fourth feature film, a dramatic comedy entitled Sensitive Parts, at the Globe Cinema on Thursday April 13 as part of a Canadian theatrical tour. This World Premiere screening will be followed by a Q&A with the filmmaker and select members of the cast.
Sensitive Parts is a tender, sharply observed dramatic comedy about about how the lingering consequences of people's interpersonal history can sabotage even the most solid of relationships.
Sensitive Parts has been heralded by the Independent Critic as "a sweet, funny and endearing little film that blossoms largely on the strength of its top not chensemble cast" and by the UK Film Review in a four-star review as "an instant cult classic… like a lost gem from Woody Allen's back catalogue".
Premier is 7PM. April 13 at Globe Cinema. To purchase tickets for this show visit sensitivepartsfilm.com.
CAPRICES FINE ARTS PRESENTS DIVERSE SYNERGY | April 3 - May 30, 2022
Join Caprices Fine Arts for Diverse Synergy: Contemporary Calgary artists' perspectives.
We will be exhibiting April 3 to May 30 at The Peanut Gallery (the lower level of Fluevog Shoes). In this  150 year  anniversary Canada celebrates it's cultural diversity.  The contemporary  artists of the Diverse Synergy exhibition  have assembled to create a synergetic event that illustrates how individual, unique perspectives can combine to produce a totality greater than the sum of their separate effects.
For more information about Diverse Synergy or Caprices Fine Arts visit www.capricesfinearts.com.
---