Yahoo! It's time again to saddle-up for the Stampede Season! We've got a lineup of Stampede breakfasts, parades, entertainment and Stampede style to get you through Stampede 2017!
Breakfasts
Breakfast is the most important meal of the day and a sure way to show our Western hospitality!
There are no shortages of breakfasts this year with 10+ breakfasts happening throughout the downtown core starting with the First Flip Stampede Breakfast on July 6.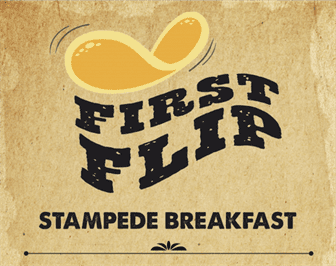 First Flip Stampede Breakfast - July 6, 2022
Calgary's First Pancake Breakfast of the Stampede season right on Stephen Avenue outside the Telus Convention Centre between Centre Street and 1st Street SE.
Come on down and be our guest! This is event is FREE for the whole family with great food and live entertainment!
This year we're proud to present additional entertainment at the west end of the block, kindly sponsored by CADA. Performances include:
7:30 - 8:15 am - Nice Horse
8:30 - 9:15 am - T. Buckley Trio
9:30 - 10:30 am - Mariel Buckley
Jacquie Drew and the Crew will be performing on the main stage with the Chinook Country Line Dancers nearby.
First Flip is presented in partnership with Tourism Calgary, Calgary Telus Convention Centre, Calgary Parking Authority, Calgary Economic Development and the Calgary Downtown Association.
No RSVP required.
Other Stampede Breakfasts include:
Premier's Annual Stampede Breakfast 2017 - McDougall Centre, 455 6 Street SW (July 10 @ 7:00 am - 9:00 am)
Simons Stampede Breakfast - 304 8 Ave SW #100 (July 10 starting @ 10:30 am)
The ShopNetTC Stampede Breakfast! - Olympic Plaza, 237 8 Avenue SE (July 10 @ 7:30-10:00 am)
Calgary Parking Authority Stampede Breakfast - 620 9 Avenue SW (July 11 @ 7:00-9:00 am)
Stampede Charity Lunch in Support of CUPS -  Brookfield 5th Avenue Place, 420 2 Street SW in West Tower Plaza  (July 11 @ 11:00 am - 2:00 pm) *$2 per person entrance fee will be collected in donations to CUPS.
Bootleggin' Breakfast 2017 - Westin Calgary, 320 4 Avenue SW (July 11 @8:00 am - 1:00 pm)
Scotiabank Stampede Breakfast - Stephen Avenue, 240 8 Avenue SW (July 11 @ 8:00 am - 12:00 pm & July 13 @8:00 am - 12:00pm)
CIBC - 309 8 Avenue SW (July 12 - additional details to come)
LD Express - 230 8 Ave SW (July 14 - additional details to come)
Stampede Charity Breakfast in Support of STARS - Brookfield 5th Avenue Place, 420 2 Street SW in Exterior Plaza (July 14 @ 7:00 am - 10 am) *Suggested $5 donation.
Fluor Chuckwagon Breakfast - Olympic Plaza (July 8, 10, 11, 12, 13, 14 & 15 @8:15 - 10:30 am)
For a list of Stampede Breakfasts happening throughout the city, visit stampede breakfast.ca.
Parades
Stampede is The Greatest Outdoor Show on Earth because it is a city-wide festival. The downtown core sets up to kick-off the festivities with the Stampede Parade on July 7.
Stampede Parade - July 7, 2022
Join old and new friends on Friday, July 7, 2017, for the official kick-off of The Greatest Outdoor Show on Earth: the Calgary Stampede Parade. It's not just a Parade marching down an avenue; it's a march through tradition, history and local Calgary culture. While our western roots are strong, we've also got multi-cultural flair with many people travelling from all over the globe to walk and ride in our Parade.
7:30 am - Parade Prelude
9 am - Parade starts at the intersection of 9th Avenue and 1st Street SE
1 pm - Parade ends at the intersection of 6th Avenue and Macleod Trail
11 am to 1:30 p.m. - Free admission to the Calgary Stampede
We are honoured to announce this year's Parade Marshals are the seven chiefs of the Treaty 7 Nations. The Treaty 7 Nations are comprised of three Blackfoot Confederacy Nations, three Stoney Nakoda Nations and the Tsuut'ina Nation, whose territories are in southern Alberta. Our 2017 Parade Marshals are:
Blackfoot Confederacy Nations
Chief Roy Fox – Kainai/Blood Tribe
Chief Stanley (Stan) C. Grier – Piikani Nation
Chief Joseph Weasel Child – Siksika Nation
Stoney Nakoda Nations
Chief Darcy Dixon – Bearspaw First Nation
Chief Ernest Wesley – Wesley First Nation
Chief Aaron Young – Chiniki First Nation
Tsuut'ina Nation
Chief Lee Crowchild - Tsuut'ina Nation
For road closure information, please visit the city website http://www.calgary.ca/Transportation/Roads/Pages/Traffic/Advisories-closures-and-detours/Special-event-advisories.aspx
*NOTE: The parade route has been reversed from previous years and will start at the intersection of 9th Avenue and 1st Street SE.
First Nations Parade  - July 8 and July 10-15, 2017
Representatives of the five First Nations that participated in the 1877 signing of Treaty Seven with Queen Victoria's government parade on horseback from 1st Street SW along 9th Avenue to Fluor Rope Square. They'll be dressed in traditional regalia, proudly share their heritage and culture through dance, music and commentaries (weather permitting.) The First Nations Parade will start at 4th Avenue SW with a stop at the Westin Hotel for photo sessions.
The tribes represented, who prefer to use their own names, include:
Kainai or Blood (Fort MacLeod)
Nakoda or Stoney consist of three bands: Goodstoney, Bearspaw and Chiniki (Morley from west of Calgary and Eden Valley west of Longview)
Peigan (Brocket)
Siksika or Blackfoot (east of Calgary)
Tsuu T'ina or Sarcee (southwest of Calgary)
Parade of Old Time Rig Rides - July 8 and July 10-15, 2017
Combine the past and the present!
Tour downtown Calgary in a horse-drawn old time rig and even enjoy a free pancake breakfast along the way! Meet our volunteers at the NE corner of Fluor Rope Square, across from City Hall.
Be sure to arrive early as the wagons fill quickly! There are a limited number of free tickets for each day on a first-come, first-served basis starting at 8:30 AM. Tickets are available on the NE corner of Fluor Rope Square (Olympic Plaza – 7th Ave & Macleod Trail SE). Click on Old Time Rig for more information and history on the attraction.
*Please note this activity is not suitable for those with mobility restrictions.
Entertainment
Fluor Rope Square 2017 - July 8-15, 2017
Do you want to have fun? Let's start Stampede Downtown!
Come join us downtown at Fluor Rope Square in Olympic Plaza and along Stephen Avenue where every day starts with a bacon pancake served hot off a chuckwagon or smokie. We follow up with great daily FREE activities including live entertainment, square dancing, clowns, Old Time horse drawn rig rides and the Indian Parade.
To view the schedule of activities, visit Stampede Downtown Attractions.
*Schedule may be subject to change without notice. There are no events on July 9 and 16.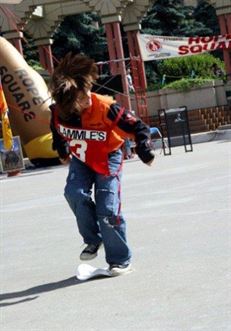 Lammle's World Champion Hat Stomp Competition - July 8 and July 10-15, 2017
Do you think you could destroy a cowboy hat in 30 seconds? Six contestants from the audience will be chosen daily (in advance of the event) and will be judged on their ability to stomp a cowboy hat in three categories: Mash factor, originality and style. Don't worry, we supply the hat!
Daily winners will be invited back to compete on Saturday for the Grand Prize~
Daily Prize: Certificate for a Cowboy Hat
Grand Prize: Championship Silver Buckle
Stampede in style
Hudson's Bay Stampede Fashion Show - July 5, 2022
Wednesday, July 5, come join the Stampede Fashion Show presented by Hudson's Bay downtown. The fashion show will be happening in front of Hudson's Bay on Stephen Avenue with two shows: First show will be 12:00pm-12:20pm; and second show from 12:35pm-12:55pm.
Guests can expect to see 21 different looks featuring Stampede trends, tips and tricks that will take you easily from day to night.
The first 200 guests will receive a $20 off a $100 purchase before tax, which is redeemable for two days only (July 5 and 6) at the Downtown Hudson's Bay.
The CORE Shopping Centre and Simons Stampede Fashion Show - July 11, 2022
Get that downtown look with the cowtown feel! The CORE Shopping Centre and Simons are proud to collaborate and bring you the latest fashion trends for Stampede 2017. Kara Chomistek of PARK has styled this year's Stampede fashion show to give you ideas for that downtown look with the cowtown feel. Show starts at noon.
If you know of any Stampede events happening downtown, let us know at [email protected].
---