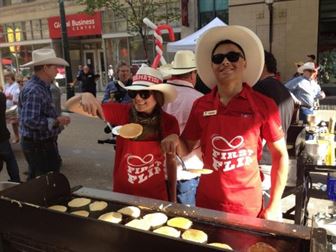 FIRST FLIP PANCAKE BREAKFAST 2017 | July 6, 2022
Come on down and be our guest at Calgary's First Pancake Breakfast of the Stampede season right on Stephen Avenue outside the Telus Convention Centre between Centre Street and 1st Street SE. This is event is FREE for the whole family with great food and live entertainment! This year we're proud to present additional entertainment at the west end of the block, kindly sponsored by CADA.
Performances include:
7:30 - 8:15am - Nice Horse
8:30 - 9:15am - T. Buckley Trio
9:30 - 10:30am - Mariel Buckley
Jacquie Drew and the Crew will be performing on the main stage with the Chinook Country Line Dancers nearby.
First Flip is presented in partnership with Tourism Calgary, Calgary Telus Convention Centre, Calgary Parking Authority, Calgary Economic Development and the Calgary Downtown Association.
No RSVP required. for more information visit our First Flip Pancake Breakfast 2017 page.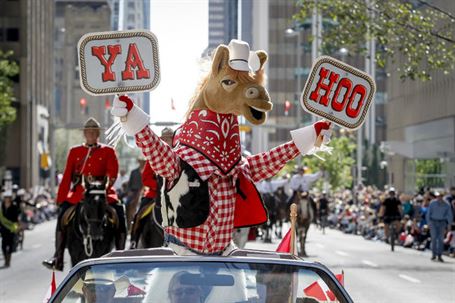 STAMPEDE PARADE 2017 | July 7, 2022
Join old and new friends on Friday, July 7, 2017, for the official kick-off of The Greatest Outdoor Show on Earth: the Calgary Stampede Parade.
Each year the Parade showcases more than 150 western-themed entries, including 30 marching bands, 40 floats, 750 horses and 4,000 people. It's not just a Parade marching down an avenue; it's a march through tradition, history and local Calgary culture. While our western roots are strong, we've also got multi-cultural flair with many people travelling from all over the globe to walk and ride in our Parade.
7:30 a.m. - Parade Prelude
9 a.m. - Parade starts at the intersection of 9th Avenue and 1st Street SE
1 p.m. - Parade ends at the intersection of 6th Avenue and Macleod Trail
11 a.m. to 1:30 p.m. - Free admission to the Calgary Stampede
We are honoured to share that this year's Parade Marshals are the seven chiefs of the Treaty 7 Nations, whose territories are in southern Alberta. Our 2017 Parade Marshals are:
Blackfoot Confederacy Nations
Chief Roy Fox – Kainai/Blood Tribe
Chief Stanley (Stan) C. Grier – Piikani Nation
Chief Joseph Weasel Child – Siksika Nation
Stoney Nakoda Nations
Chief Darcy Dixon – Bearspaw First Nation
Chief Ernest Wesley – Wesley First Nation
Chief Aaron Young – Chiniki First Nation
Tsuut'ia Nation
Chief Lee Crowchild - Tsuut'ina Nation
REMINDER: The parade route has been reversed from previous years and will start at the intersection of 9th Avenue and 1st Street SE.
For road closure information, please visit the City of Calgary's Special event road closures page.  For more information about the Stampede Parade 2017 visit the Calgary Stampede's Stampede Parade page.

PROARTS PRESENTS SOPRANO BRITTANY RAE | July 5, 2022
ProArts presents soprano Brittany Rae plus guests.
Having collaborated together on various projects with Calgary Opera and Cowtown Opera in the past year, Brittany and her two guest artists, French-Canadian bass-baritone Simon Chalifoux and pianist Evan Mounce, present a FREE noon-hour recital that explores the merging of the male and female voices.
Location | Cathedral Church - 7 Avenue and 1 Street SE
Time | 12:00 PM (noon) - 1:00 PM
For more information about Brittany and her guests, visit proartssociety.com.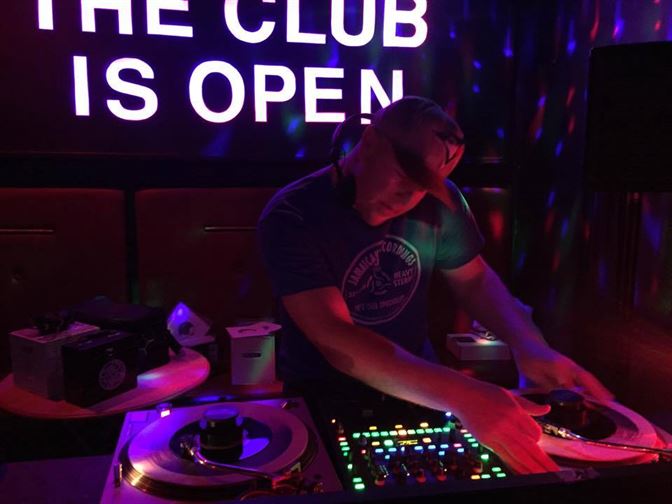 DJ TOM MANNIX ON STEPHEN AVE SUMMER STAGE | July 8, 15, 22, August 12, 19 & 26, 2017
The Stephen Avenue Summer Stage is programmed June through September each summer and offers a variety of different music. Previous acts have included rock bands, pop acts, dance troupes and belly dancers, just to name a few!
DJ Tom Mannix will be playing through July and August on listed Saturdays from 1-4 pm.
Location | Located on Stephen Avenue (8th Avenue SE) between Centre Street and 1st Street SE by the Telus Convention Centre.
For a full lineup of shows through the summer on the Stephen Ave Stage, visit our page Stephen Ave Stage.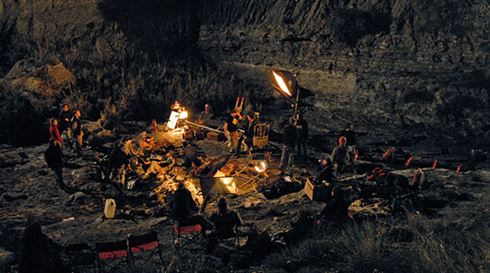 WILD: FABRICATING A FRONTIER | July 7 - August 26, 2022
WILD: Fabricating a Frontier is a collaboration between Mountain Standard Time Performative Art Festival and Calgary Underground Film Festival; the project has been supported by a program grant from the Canada Council for the Arts.
Exploring interspecies relations, the intersectionality of the frontier, and feminist and Indigenous discourses, WILD: Fabricating a Frontier offers an incisive, humourous and rambunctious counter-telling around the campfire through two major components: an intensive ten-day festival held primarily at the Globe Cinema over the duration of the Calgary Stampede (July 7-15) featuring nightly performances, film screenings, and discussions by local, national, and international artists, filmmakers, curators, and writers, and an exhibition running from July 7 to August 26 across three venues throughout Calgary: the former Victoria School (411 11th Avenue SE), the Illingworth Kerr Gallery (1407 14th Avenue NW), and Globe Cinema (617 8th Avenue SW).
RECEPTION | Friday, July 7, 5:00 - 7:00 PM | FREE | Globe Cinema
FESTIVAL | July 7 - 16, 2017, Daily Performances + Film Screenings + Talks
EXHIBITION | July 7 - August 26, 2022
For additional information visit contemporarycalgary.com.
---
To get events like these emailed to you each week, sign up for the Downtown Calgary Events Newsletter, and follow us on Twitter and Instagram, and Like us on Facebook!
If you have an event happening downtown Calgary and would like us to share information about your upcoming event, please visit our Downtown Calgary Event Calendar page to submit your request.
---