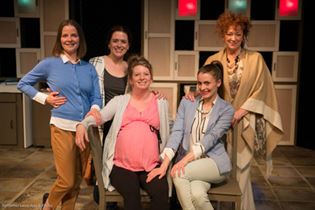 Book Club. A time when women get together and talk about the book they have chosen for that month. But usually it's a time where friends get together, drink wine and share their lives with each other. That is at the heart of Lunchbox Theatre's world premiere Book Club by Meredith Taylor-Parry, a story of women who care about each other, while dealing with all the things that life throws at them.
Lisa (Cheryl Hutton) is hosting book club so she has put the tv on so both her girls can watch while she cleans the kitchen. She throws the dirty laundry hamper into a cupboard along with a filthy stuffed animal. She calls Kathy (Kira Bradley) to tell her that Ellen (Anna Cummer) and her mother (Kathryn Kerbes) are arriving and therefore, Kathy has to be there! The doorbell rings and in walks Ellen talking about her star child Lola and the daycare they all go to and Lisa pours the wine. But Ellen is on a cleanse so she won't be having any wine as there is too much sugar in it.
The dynamic of the group is interesting here, especially when the very pregnant Kathy shows up, as everyone has their own parenting style. Lisa is down to earth and trying to juggle it all. Ellen is incredibly uptight, trying to be a star parent, putting her kid in violin lessons and Kathy is just taking it all in. The group then wonders where Jenny (Arielle Rombough) is, as she's usually on time. Texts to her phone reveal that she is at a strip club and talking about Venice, so the group goes off to try and find her.
Book Club is a play about women and the bond that they share while trying to get through the difficult challenge of bearing the children and raising them. Every woman in the story shares her struggle with not being able to do it all. Lisa and Kathy share a poignant moment together about not being patient mothers and it shows Hutton's comic chops. She is so funny and charming and Bradley plays off of her so well, these two have such chemistry together that it makes the scene all that more moving. Cummer and Kerbes portray the frustrations of a mother-daughter relationship beautifully.
Anton de Groot's scenic and lighting design pairs nicely with Allison Lynch's sound design, especially when Lisa's kitchen transforms into a strip club.
The authentic voice of Taylor-Parry is what makes Book Club so engaging. The interaction between the ladies, especially the relationship between Ellen and her mom has such a ring of truth at its foundation. Jenny's story and why she chooses to run away from it all really resonates. In the end, these women and their struggles to raise their families respectively makes for an amazing story and play.
Book Club is funny, thoughtful and engaging theatre. Don't miss it.
Lunchbox Theatre's Book Club runs until February 27th. More information is available online.
---