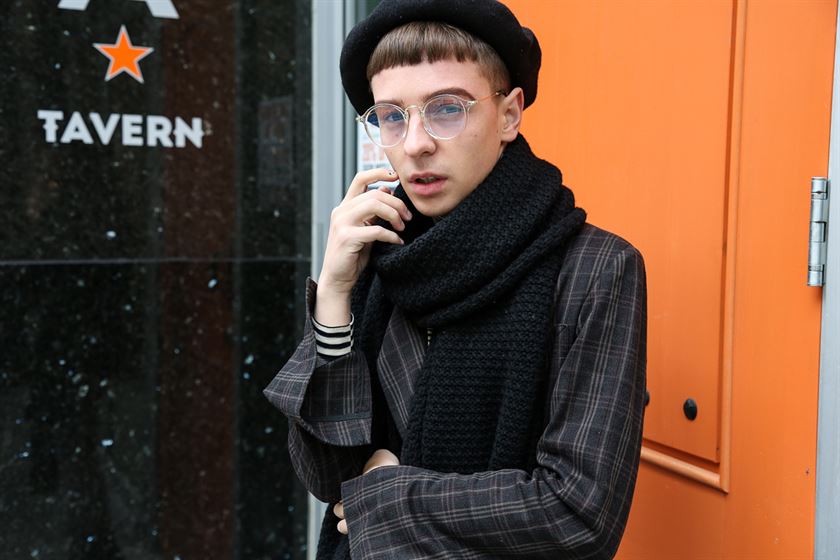 Sometimes you encounter individuals that live and breathe fashion and personal style, and Paul Conrad Schneider is certainly that person. Not only does he showcase this love and passion for fashion in his daily outfits on the streets of Calgary, but also on his social media channels and blog, The Youth Novels, where the opening line of his About section states - What better way for a twenty-one year old "manrepeller" to spend his time than documenting his overly layered outfits? And I couldn't agree more!
His fashion work doesn't begin or end there though - from being named the TOPMAN brand ambassador for Calgary, to bringing his passion to Leo Boutique, this young man appears to just be getting started on his fashion journey. And I personally can't wait to see where it might lead, and how his personal style will continue to evolve.
How would you describe your personal style? 
My style is a bit more editorial menswear than stereotypical. There's a larger focus on higher quality pieces and styled in a very Dries Van Noten meets Loewe meets the Olsen twins way. I'd describe it as being a high end bag lady with an addiction to Cuban heeled shoes.
What are some of your influences when it comes to fashion? 
I love following along with fashion month and recreating what I see in the runway out of things already in my closet. I take a lot of inspiration from brands like Dries Van Noten, Ann Demeulemeester, Loewe, JWAnderson, Gucci and Demn's Balenciaga Women's line.
What are some of your favourite stores and shopping destinations in Downtown Calgary? 
I love spending time in The CORE. There's so many great shops inside including Club Monaco, Holt Renfrew and Simons
What are some of your favourite Downtown YYC spots? 
A lot of my social content is photographed in the core, so I love exploring and finding hidden gems that give Calgary a completely different, editorial vibe.
But you can normally find me at DeVille just off of Stephen or dancing my little heart out at Hot Mess when it's hosted at National on 8th.
What are some of your favourite trends right now? 
As much as I like to say that I avoid trends, I've been sucked into the 70s trend. I'm loving the colours and hues this season and am so excited to expand my closet and fill it with so many warm tones. 
What fashion advice would you give to others? 
If someone says you can't do it, tell them to shove it (I tried so hard to be PG with this one).
Never limit yourself. And don't allow someone to dictate what is standard and what's a risk. If you feel comfortable and are expressing yourself the way you want to, everyone else can take a seat.
Tell us more about the projects and work that you're involved with. 
Along with running my social media networks (@paulconradschneider on Instagram) and blog (www.theyouthnovels.net) I've started working with one of the best stores in Calgary. I've been helping with social media, just took my first run at buying for SS18 and help out with whatever else I can in the store. It's been an amazing year with Leo, and I'm so excited to grow not only with them, but as an individual, and learn so much more.
What are some of your future aspirations?  
I'd love to be able to turn The Youth Novels into a full functioning career, with an eventual turn into an online magazine that showcases a different side of gay culture. Creating a fashion space for young gay men to find solace in fashion and be inspired by others who are doing what they want to do. I think it's so important that other aspects of the community are showcased and allow a generation to see a completely different side of the scene that isn't so appearance based.
I'd love to expand internationally, like many, the dream is New York or overseas. But we'll see what happens. Calgary's not done with me yet. so I'm gonna keep turning heads for now.
How does your work influence your personal style? 
I'm honestly so fortunate to have the chance to see collections before they ship into store. It allows me to get a head start on what's happening in the industry and where things are going. I get to see and feel the materials that will be popular and incorporate these styles into my day-to-day life before it hits stores.
I'd like to say it gives me a leg up on the fashion scene for sure. Even if my route isn't what interests everyone else. Imma still do it.
---