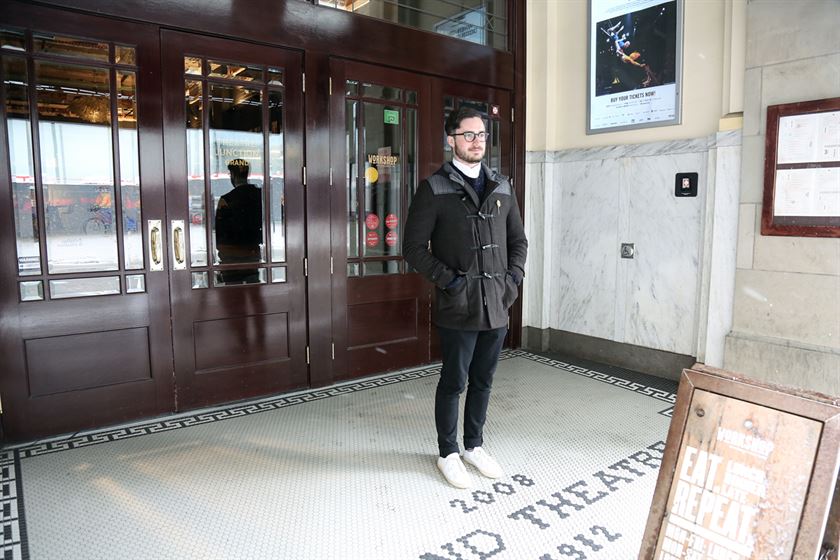 Over the past few weeks I feel like I've been stumbling upon some seriously stylish ladies - and it was definitely time to find a stylish gent to add to the list of Street Style Huntress adventures in YYC. Oliver Pennock was the perfect capture - even though it decided to turn cold and snowy on the morning we photographed - but nonetheless I was able to capture his "hipster" style that I have to say I adore. I love the simplicity of his looks, which always have a nice amount of detail and pattern. There's something to be said about classic pieces and colours, where so much room is left to add fun pieces of style to the mix.
We photographed in front of the historic Theatre Junction GRAND, where we were able to stay relatively dry and stylish.
How would you describe your personal style? 
I guess preppy or "hipster". I really like simple colours and patterns. Nothing hard to look at, distracting or obnoxious.
What are some of your influences when it comes to fashion?
I grew up reading GQ, well not really reading but looking at clothing ads. Even though the ads were for clothing that cost thousands on people that are mega-attractive, I still would go out and find something similar at like H&M or a thrift store. I've also always been surrounded by people that I think dress well and I low key steal their look.
What are some of your favourite stores and shopping destinations in Downtown Calgary? 
Mostly in the CORE: Gap, which I feel is pretty underrated is great for chinos and jeans; only go when there's a sale. Club Monaco for button downs and winter accessories. And a mix of Brooks Brothers, Banana Republic, H&M, ALDO, Little Burgundy, and recently Simons.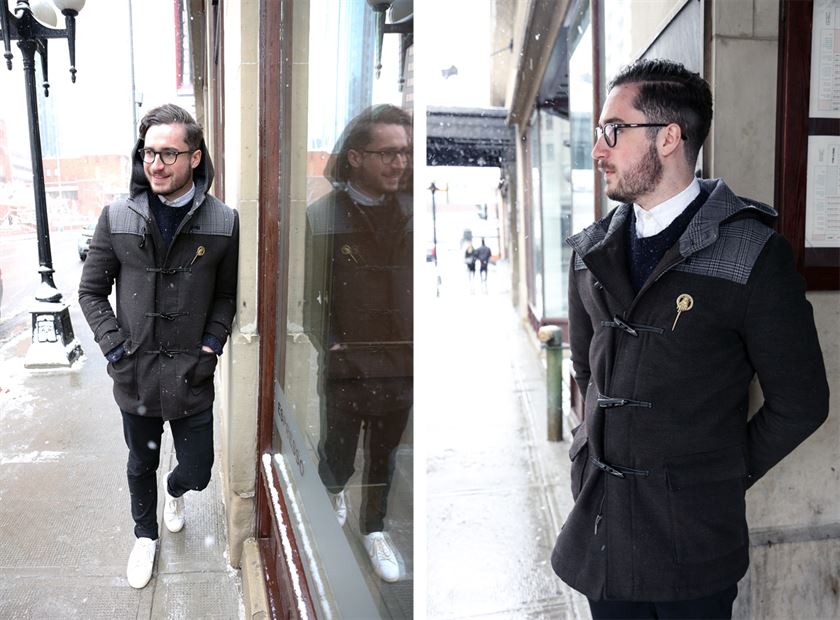 What are some of your favourite Downtown YYC spots? 
Theatre Junction, Globe Cinema, Lunchbox Theatre, National Music Centre, and the Palomino.
What are some of your favourite trends right now? 
Vintage clothing stands out the most for me right now. I love the colours and patterns and design of it all.
What fashion advice would you give to others? 
Brands are cool and all. But you don't need to ball out on expensive clothing to look "good". You just need to look in the right places and be super thorough and you can find even better quality clothing for cheaper… coming from the dude that shops at Club Monaco.
Tell us more about the projects and work that you're involved with. 
I work at Theatre Junction GRAND! We're a performing arts venue that brings in bizarre shows from around the world. We also host for super awesome festivals like CIFF, Sled Island, Beakerhead, and High Performance Rodeo to name a few. I assist in a variety of administrative duties. It's definitely the best job I've worked, everyone is so passionate about what we do, all around great atmosphere and cool building.
I also like to volunteer with other arts organizations in the city like Sled Island, Folk Fest, Cinematheque, etc. There's always perks plus your helping out for a good cause.
What are some of your future aspirations?  
Right now I'm in the typical "What is my purpose in life? What do I want to do? What should I do?" 21 year old mindset. So I suppose I aspire to figure that out.
How does your work influence your personal style? 
I have to be semi-presentable at work, so my closet is like 90% button down shirts. Plus, I work with some stylish individuals that I like to leech from. My boss definitely has the worn the same outfit I'm wearing here.
---