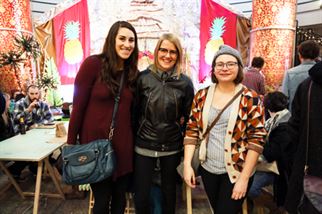 I really enjoy seeing when great things turn into even greater things and outlive my expectations, as they continue to thrive and grow in our city - Market Collective celebrated its 7th Anniversary in 2015, and once again just put together a few weekends of festive market(ing).
I had the opportunity to grab a few of the stylish people that were a part of it, from merchants to those just shopping around for their holiday gifts. Once again, I found a little bit of everything style wise, from a little plaid, some amazing and appropriate faux fur, and some festive colour.
Hopefully everyone found some amazing locally crafted creations for their friends and families! Happy Holidays and see you all in 2016!
---