Updated for 2016: please let us know if we missed anything [email protected]
As the sun finally starts to show up on a regular basis and the temperature rises, it's time to get outside for that much needed dose of vitamin D. After a very long, hard winter, patio season is finally here!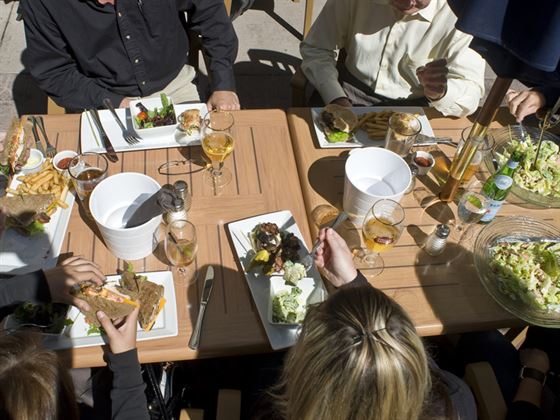 Here are a few fantastic spots throughout the downtown core where you can take advantage of this improving weather.
Caffeine Connection
Need a jolt to get going?  Get your vitamin "C" along with vitamin D at one of these great patios: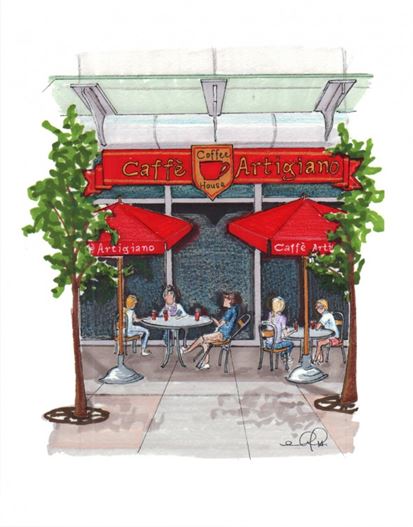 Illustration by Stephanie Fowler, Design by Streetlight
Caffe Artigiano at the Centrium and Shell buildings, Caffe Rosso on Stephen Avenue, Second Cup on 8th Ave near 5th St SW, or the Good Earth Café on 2nd St SW near 9 Ave and one at Eau Claire, Starbucks on 4 Ave & 2 St SW.
Happy Hour
If you're looking to decompress with some appies and drinks after work, a number of restaurants and pubs are offering up some great Happy Hour deals. Specials may change, so please call ahead to confirm.
Stephen Avenue Walk
One street, pedestrians only from 6:00am-6:00pm (no noisy traffic) with 27 different patios to choose from. Patio heaven if you ask me!
100 East Block
Caffe Rosso, Catch & The Oyster Bar, Milestones Grill & Bar, and Thomsons.
100 West Block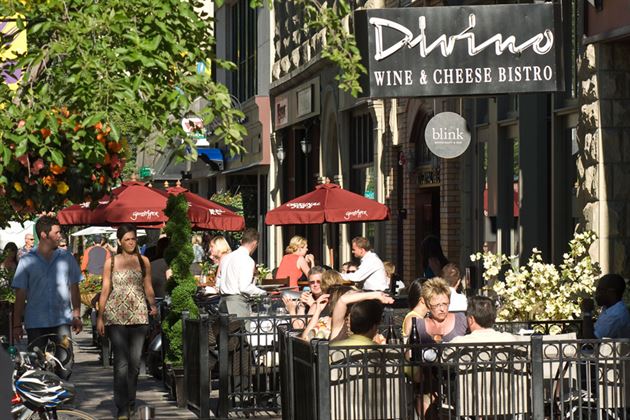 Bank and Baron Pub, The Belvedere, Blink Restaurant & Bar, Blue Vinny Diner, Divino Wine & Cheese Bistro, Klein / Harris (formerly HOME tasting room), James Joyce Irish Pub, Jugo Juice, Murrieta's Bar & Grill (upstairs, access off 1 St SW), Original Joe's, and Saltlik Steakhouse.
200 West Block
New in 2016: The Guild (at Hudson's Bay) Flames Central and Wildfire Grill, The Unicorn (Formerly The Libertine), and Mango Shiva.
300 West Block
Earls 67 LOCAL Public Eatery, Cactus Club Café and the Metropolitan Grill,
Something New
The old WEST has been converted into a National Beer Hall - rooftop patio and all! The National on 8th Beer Garden on the rooftop patio will be Canada's largest, permanent outdoor beer garden, with the ability to accommodate up to 600 people. Earl's on Stephen Avenue is opening soon with a new patio summer 2016.
Hy's Steakhouse & Cocktail Bar is now open with a patio on the corner of 8th avenue and 3rd Street SW.
Sonoma on 9th is located just off the corner of 9th avenue & 6th street S.W. Their patio is open for lunch and happy hour every weekday.
Eau Claire & Nearby Area
Abruzzo Ristorante, Barclay's Upscale, The Barley Mill, Fionn McCool's Irish Pub, Joey Eau Claire, The Keg Steakhouse & Bar (4th Ave), Ki Modern Japanese & Bar, Prego Cucina Italiana, River Café, Sumo Sushi Lounge and  Zen Kabuku.
Other
Barcelona Tavern, Booker's BBQ & Crab Shack, Buchanan's Chop House & Whiskey Bar, Carne, Charcut, Cucina, Moxie's Grill & Bar, The Palomino, Township, Teatro.
A few spots don't have their patio furniture out yet, so you're best to give a call first to avoid any disappointment.  Most places do not take reservations for the patio, so be sure to arrive early to secure your spot.
What's your favorite downtown patio spot? We'd love to hear from you!
---