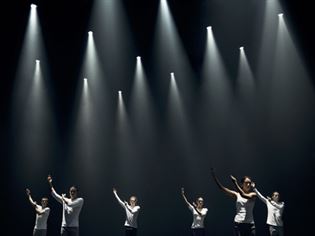 Photo credit Jake Walters
In September of this year, Montreal based dance company La La La Human Steps announced that it was closing its doors after 35 years. The company had to close because of financial difficulties. Nicole Mion, Artistic Director and Curator of the Fluid Movement Arts Festival remembers the first time she saw La La La perform,
"I saw one of their first shows, when I was in high school. La La La changed me. I remember when I first saw Louise Lecavalier, she [hoisted] a man over her head. And so as a young woman growing up and seeing that was possible, in life and in dance, was just mind blowing." With a prominent company in Canada closing up, it has an impact on dance across the country. "It costs a lot of money to run a company like that, to take risks, it is challenging for all of the arts and we are all contending with making the budget farther and yet still having big dreams," Mion says.
With the company's closure, Mion is thinking about the Fluid Festival and supporting international, national and local artists. The festival can bring in excellent art that inspires local artists to create. "That mix goes hand in hand," Mion explains.
This is the Fluid Festival's 10th year and it's a year that holds an unofficial theme of partnerships. There is a partnership with Wordfest in the presentation of EUNOIA, featuring Fujiwara Dance Inventions based on the book by Christian Bök.
The festival is also partnering with Y Stage and Theatre Junction Grand to bring in Flip FabriQue's Catch Me! contemporary circus out of Quebec City. "It sits between dance and theatre and circus," Mion says, "it is whimsical and playful." The group works with trampolines and hula hoops and performs incredible feats. "It's so fresh and dynamic," Mion adds.
The festival is bringing in Manuel Roque, a rising star from Montreal. He used to dance with Marie Chouinard and "has done a number of works on his own and is really coming into his own," Mion states. "He is a shape shifter. He has a detail with the way he moves that is exact and incredibly beautiful and mysterious."
On the local front the festival is engaging a number of local artists, including the Body Politic Cabaret, a Cabaret focused on a theme of politics. Curated by dancer Mark Ikeda, the cabaret aims to have dance and movement critique our political system. "Vote first, then come to the show!" Mion exclaims.
There are many amazing production coming to the Fluid Festival this year. The dance festival runs October 14th - 26th and has a diverse lineup of artists. More information can be found online.
---