This is a little last minute, but for our spur of the moment friends out there, if you're looking for something to do tonight we have found it!  For only $20 you can get "A Taste of the CPO" and their new Resident Conductor, Adam Johnson.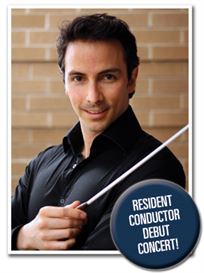 Tonight's concert starts at 8:00pm at the Jack Singer Concert Hall, and will be a sneak peek of the CPO's 2013/2014 Season featuring hits from this Season's POPS and Specials concerts, including Led Zeppelin's Kashmir and picks from the Classics Series such as Wagner's Ride of the Valkyries.  There will also be selections from the famous fifth symphonies of Mahler, Beethoven and Tchaikovsky.
All tickets are only $20 and are available by phone until 7:00pm, or online until 4:00pm. If you are purchasing 10 or more tickets, you can order by phone at (403) 571.0849 to take advantage of potential group discounts.  More details here.
If you arrive early for the event, you'll be able to join a cast of characters in the lobby for a preview of their upcoming concerts, events and programs.  You'll also be able to win prizes, get some great ticket offers and more.
Check out a sample of the their 2013/2014 season here.
---