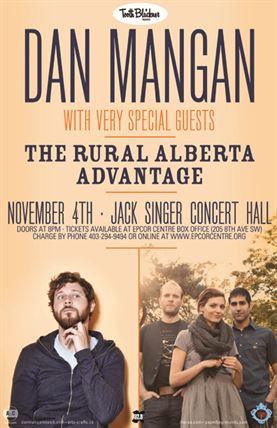 We remember him when.  Back in 2010 when Dan Mangan played his first side-stage show at the Calgary Folk Music Festival, he had just been shortlisted for a Polaris prize.  His rollicking heat-stroke inducing singalongs and affable manner quickly made his one of the most buzzed names on the island that weekend.  A return engagement, at a packed Knox United Church a few months later, proved that Mangan's popularity could beat out even the nastiest of winter storms.
Since then, the hardworking troubadour has been steadily working his way up to larger and more mainstream venues.  A musician who has never been known to turn down a gig, Dan Mangan's star keep rising on an exponential trajectory.
Now, with a fistful of Juno awards and three CBC awards to his name, as well as a second Polaris nomination, an iTunes Album of the Year award, an XM Verge Artist of the Year award, and three Western Canadian Music Award nominations,  Dan Mangan is getting set to play to the luxe seats.  During his main-stage performance at a return engagement to this year's Calgary Folk Music Festival (no more tweener sets for this increasingly well-known musician), Mangan thrilled the crowd by announcing a November show, backed by the Rural Alberta Advantage, at the Jack Singer Concert Hall.
It will be an adjustment, to trade in tarps and festival chairs for velvet cushions and assigned seats, and few musicians are more deserving of making the leap to big time venue than the hard-working, crowd-pleasing robot wrangler.  One can't help but wonder, though, if the warmth and intimacy that accompany a Dan Mangan concert can make the transition from cozy venue to vast concert hall.  But the gravelly-voiced troubadour has become accustomed to playing to huge crowds, with performances at monster festivals like Glastonbury, Mariposa, Sasquatch, Halifax Pop Explosion, and Australia's Woodford Folk Festival.
Come November, just watch Dan Mangan turn the Jack Singer Concert Hall into a giant campfire singalong.
Dan Mangan with the Rural Alberta Advantage
Jack Singer Concert Hall
Sunday, November 4, 2021
8:00PM
tickets $37.63 at Epcor Centre Box Office
---