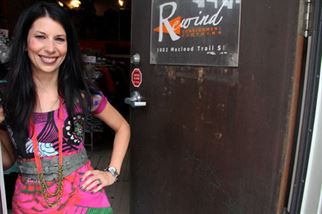 One of my favourite things to do…
When it comes to street style, one of the core elements is of course shopping, and the many beautiful, shiny and interesting retailers that are out there. For me personally, one of my favourite shopping experiences is that of vintage, thrift and consignment stores. I've found it all…a beautiful Georgio Armani blazer in a hot and steamy orange from the 80s, a sweet leather jacket from the 60s that cost me a dollar (yes, you read right, a dollar!), and many funky outfits that others were apparently bored and done with. And so, I cheer to those and their boredom and the loveliness that is clothes recycling.
I only discovered Rewind Consignment about a year and a half ago, and it instantly became one of my favourite stores in Calgary. Aside from the great and diverse selection of consignment and new garments, what really appeals to me is the amazing, friendly, energetic and genuine customer service that the store's owner provides on all visits.
The instant that I met Krista Duckworth-Hopfauf, I knew I'd be a fan of her and her store for many years to come. When I was first introduced to Rewind by a great friend of mine, the two of us knew that we'd be frolicking to the store often, and we were right. My most recent purchase was an incredible mustard coloured clutch adorned with rock and roll chain detailing, and a lovely polka-dot dress that makes me look and feel like Minnie Mouse. Love!
So now that I've told you why I love this shop so much, I think it's time to turn it over to the heart and soul of the operation to find out a little bit more about this lovely little gem…
When did you open Rewind?
I didn't actually open the store - I took it over in the early stages and have owned and been running the business since August 2008. It worked out better than trying to start from scratch and I decided on this type of business because it's fashion, which I've always loved, supports the recycling movement, it's fun and allows for ongoing opportunity to be creative and change things when needed.
What is your business mission?
I want a successful boutique where women will know they can come here and always find something unique and fabulous for great prices and be treated like a friend. I would like to one day expand the space to offer vintage and more of the upscale designer labels, but without losing the unique character of the space I have.
How do you feel about the Calgary fashion scene?
There are some very stylish, trendy women in Calgary and the city is moving in the direction of supporting local designers and being inspired to find their own unique style. Our city's culture isn't quite there because we seem to be so shopping mall driven, but for good reason; there's so many of them. But business revitalization zones in Calgary are really pushing for a "be local/shop local" mentality. And at the same time people are realizing that by supporting local businesses it boosts our own economy and also provides the city with unique character.
What do you hope changes within fashion in this city?
I hope to see a fashion culture where anything goes. Where you don't ever have to think about getting funny looks from people if you decide to wear something really different. More independent, personal style reflected in our streets and in turn the shopping venues that pop up. Think London or NYC!
What clientele do you cater to?
We cater to women primarily in their 20s, 30s, 40s. Women who love fashion and women who need a little help with styling and want to try something different.
What would you say was tricky about being in the consignment business?
You have to know brand value but be reasonable at the same time, for the consumer and the consignor - that's always tricky. Sometimes it's a gamble on what's going to sell. Knock off designer merchandise can also be tricky, particularly with bags and wallets. I recently just got an Hermes wallet in but I couldn't authenticate it, so I just returned it to the consignor. On eBay Hermes wallets are going for $1,000+.
Are you from Calgary? Are you able to share some of your history?
I'm actually from Saskatchewan. Small town girl; farmer's daugher

I've been in Calgary since 1998. I moved here simply for new opportunity. For the last 13 years I've worked in the hotel business, administration, marketing and now retail. It's amazing to work for yourself, but you have to be ready. I left the corporate world to be independent, set my own schedule and be challenged in a number of ways. Running your own small retail business, you get to be in charge of marketing & advertising, bookkeeping, customer service, human resources, buying and merchandising and styling.
Anything else you'd like to add?
If our hours don't work for people, we offer private shopping parties as well - anytime outside of business hours, with wine and cheese!
Here are my other style finds around our great downtown:
Krista: The amazing lady herself, Rewind owner rocks a great personal style that is colourful and funky!
Danielle: This lovely young lady keeps it casual, yet adorable. I love the skinny jeans, paired with a plain T and a funky bird cage necklace.
Allyson and Brenna: These two ladies work at Betsey Johnson, and have a lot of amazing personal style. Allison rocks out great bright blue jeans, with super high heels, a funky lacey/oversized top and a trendy high bun. Well played!  Brenna with a great dress, great shoes, great style. I'm naturally also a huge fan of the red hair.
Lorissa: She is rock and roll and amazing from head-to-toe. I love the Ramones sweatshirt, paired with super tight black pants and a poplin shirt underneath. Love!
Related Posts
Random Posts
---