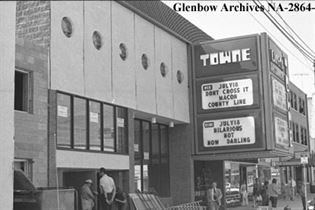 This week's Throwback Thursday picture comes courtesy of the Collection of the Glenbow Museum Archives taken in June 1974, and it's of the Towne Cinema, now known as the Globe Cinema.
Now located at 617 - 8 Avenue SW, the Towne Cinema opened as a single screen theatre in 1965.  In the early 1970s, it expanded into a twin theatre with two screens named CINEMA RED and CINEMA BLUE.  The complex could hold 756 people with 378 in each theatre.  Landmark Cinemas eventually took over operations of the theatre in the 1990s and renamed it the Globe Cinema where the theatre now shows a mix of first-run films and the typical art house films you find in smaller theatres.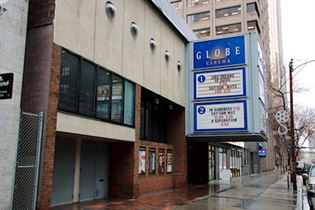 Next week, Globe Cinema will host the Calgary Underground Film Festival.  From April 16-22, you'll be able to see contemporary works and films that defy convention.  Genres from sci-fi and fantasy to comedies and everything in between will be represented from all over the world, whether they be documentaries, animation, shorts or experimental film.  With the diversity of films this year, chances are there'll be something that'll appeal to you.
For more information, including where to buy tickets, check out calgaryundergroundfilmfest.org.
That's it for this week's Throwback Thursday.  Tune in next week and every week in 2012 for more glimpses into the past of Downtown Calgary.
Do you have any photos of Downtown Calgary from the past that you'd like to share with us?  If so, send us an e-mail at i[email protected] and it may appear in our weekly segment!
---