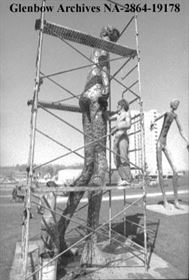 This week's Throwback Thursday photograph comes courtesy of the Collection of the Glenbow Museum Archives, and it's of the art sculptures located at 515 Macleod Trail SE right outside the old Calgary Education Centre taken in 1971.
Called The Family of Man (also known as the Brotherhood of Mankind), these sculptures were created by Spanish artist Mario Armengol,  who was commissioned to create them for Britain's Pavilion at Expo 67.  The sculptures were designed to inspire two moods:  An immediate reaction to man dominating, followed by a contradictory feeling of insignificance and dependence.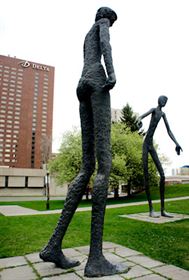 At the end of Expo 67, Robert Cummings purchased the sculptures on behalf of Maxwell Cummings and Sons, who then donated them to the City of Calgary in 1968.  A special citizen committee reviewed various offers of sites for the statues before ultimately settling upon the area in front of the old Calgary Education Centre, and they were a part of the Calgary Board of Education's logo for many years.
The statues are 21 feet high and are placed in groups with hands extended in gestures of goodwill and fellowship.  A staple of the downtown Calgary art scene, these statues have greeted Calgarians for years as they've commuted through the core and have become a beloved presence.  They've even been the subject of a yarn bomb by a local artist.
That's it for this week's Throwback Thursday. Tune in next week and every week in 2012 for more glimpses into the past of Downtown Calgary.
Do you have any photos of Downtown Calgary from the past that you'd like to share with us?  If so, send us an e-mail at i[email protected] and it may appear in our weekly segment!
---