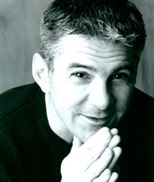 Mark Bellamy, the artistic director of Vertigo Theatre, first fell in love with Sweeny Todd over 25 years ago. "I think I first discovered the show when I was in university," he says, "so probably like, 1983?"
Bellamy is finally directing his beloved musical. And he wants to go out with a bang.

"It's a very human story at its core," he explains when asked what he connects with personally, "I've always been a fan of Stephen Sondheim, and I think that this is his masterpiece." It seems rather fitting, that in his last show as artistic director at Vertigo Theatre, he be able to put on a masterpiece. "It's pretty exhilarating," he exclaims.
Sweeny Todd has been described as the Shakespeare of musical theatre. The story of the murderous barber has been depicted on stages and on film. There are a lot of challenges to putting it on. Some Bellamy struggled with more than others. "Figuring out how to make the blood work," he says, "we went a different route than a lot of productions. We decided to do something much more theatrical, that involves blood being thrown. So trying to figure out how to lessen the splatter and not drench people back stage [was a challenge]"
Casting for the roles in the musical was the biggest challenge for Bellamy. "You have to get the right people, in the right roles, not only just who can sing it, but who are going to be able to do it 8 times a week," he says, "[people] who are going to connect with the characters, who are going to work together as an ensemble, and I think we have a remarkable cast."
Once he's done, Bellamy will be done in his role at Vertigo Theatre. What's in store for him? "Relaxing," he says with a laugh. "I'm looking forward to connecting with other forms of theatre," he adds. "It'll be nice to have a different mind for a while." Not to worry though, as Bellamy will be back in the theatre community freelancing as a director and an actor.
In the Getting Down series, both Simon Mallett and Jamie Konchak have said that they were looking forward to seeing  Sweeny Todd. "I was really looking forward to Mary's Wedding at ATP," Bellamy says when asked what he had been looking forward to, "I thought it was just a spectacular production."
"I'm looking forward to next to normal at Theatre Calgary," he states when asked about next season. "It's really challenging, interesting, edgy, contemporary work."
The play about the murderous barber opens at Vertigo Theatre tonight. Tickets can be purchased online or at the door.
---