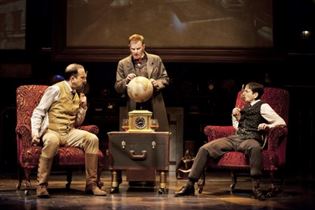 "We are living in an age of technological advancement! You can send a telegram and it will arrive days later."
This is a quote from Around the World in 80 Days, a novel written by Jules Verne, published in 1873. Alberta Theatre Projects is presenting the stage adaptation as part of their Nexen Holiday Show. It's a silly, fun for the kids production that tells of Phileas Fogg (Rylan Wilkie) and Passepartout (Natascha Girgis) who are attempting to travel around the world in 80 days. They are pursued by Fix of the Yard (Sanjay Talwar) who suspects Fogg of robbing the bank of London and viciously murdering a guard.
The performance has plenty of physical humour and situational comedy. The three actors play multiple roles that have them running around the stage, arriving to their next role out of breath. It's great fun for the kids to watch the actors pull off this exhausting performance. The gang find themselves in Egypt, Bombay (now Mumbai), Hong Kong, and San Francisco just to name a few. There is plenty of adventure waiting for them, including riding an elephant and burning everything on a boat as fuel to cross the Atlantic.
The location for each scene is portrayed by Kaely Dekker's projection design, with famous buildings in the background and Narda McCarroll's set design that illustrates the cultural context. There is always a clock or a globe tucked away somewhere, to emphasize the theme of precision of time that permeates the play.
There are nods to the adults in the audience, with a funny reference to Titanic and a tongue and cheek poke at our current belief in technology. Around the World in 80 Days is a light fun play, that asks the adults in the audience to gloss over it's treatment of Indian culture in the story. There is a section where Passe Partout and Fogg save a princess from burning to death in India and the language used to describe the culture, illustrates the belief that it is beneath English culture. It's an aspect of the play that has not aged well and could do with some scrutiny.
The decision to have Passe Partout be played by Girgis is a brilliant one. She is comical and her timing is well delivered. Talwar is particularly good at playing the princess Aouda. All of the transitions between characters is a comical force in the play and a particular delight for the children in the audience.
Around the World in 80 Days is quite a bit of fun for the whole family.
Alberta Theatre Project's presentation of Around the World in 80 Days runs until December 29th. Tickets and more information is available online.
Photo Credit: Trudie Lee Photography
---