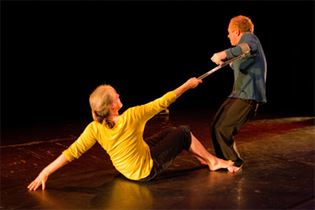 The MoMo Dance Theatre brings together professional artists and prospective artists, with and without disability to explore movement, voice, theatre, dance, and improvisational disciplines. Their 10th anniversary show 'Body Language' plays at the Vertigo Theatre June 7th & 8th.
We are into the final week of rehearsals for my final show with MoMo Dance Theatre and the excitement in the company is palpable. Body Language is made up of five performance pieces by five different choreographers, all conceived and rehearsed separately, so we often don't get to see all the work until late in the process.  Our last studio rehearsals before moving into the theatre, when the full company sees all the work, all together, are electrifying.  At the end of the day someone is bound to say, "We have a show!" And so we do, once again. 
It may seem strange, as production director, not to have more control over what goes into a show, but I know and trust my professional colleagues. They are artists.   Inclusive dance theatre is still an emerging performance genre in this part of the world and ten years is a very short time. We are all still happily exploring, learning and developing. There are no rules, no forms, no 'standards of perfection', to worry about. As far as I'm concerned this work is the ultimate artistic challenge and freedom and I love to see my fellow artists relishing it.
Valerie Campbell's piece, Moving M.O. is set to the poetry of Mary Oliver. I taste the pleasure it gives these artists to speak these beautiful  words and cherish the way Val has illustrated meaning in subtle staging and movement. I always love Kyrsten Blair's work, it is quirky and original and in Tight Turns And Steep Slopes, she weaves together movement generated by the performers themselves.
In an art form in which you are asking your audience to re-examine what they consider 'beautiful', the biggest  challenge is to create a piece with performers in those great, big, space gobbling, electric chairs. This is just what Naomi Brand has done. She chose to choreograph a dance with three vastly contrasting dancers, in movement and ability, as well as visually. Promenade is one of the most 'beautiful ' pieces we have ever presented and a crowd favourite from last year's show.
Inviting CRIPSiE, from Edmonton, to join our 10th anniversary show is an example of how important I believe it is to create community within this work, not only in Calgary but across the country. Like all artists, being able to mentor and stimulate each other is vital. I have seen CREPSiE perform in Edmonton and although I won't see this piece until our technical rehearsal later this week, I can't wait.
And then there's my piece, 5 6 7 8.  Although I have created two pieces for Dance Montage during my time with MoMo, this will only be my second for a company show.  I am not a choreographer and I`ve been more focused on drawing other Calgary artists into the work and community. I am a movement artist and improviser. I set out to make an improv based, full company piece that celebrates ten years of dancing together and the fun of who we are as an inclusive company of artist. We're all pretty happy with it, and………We have a show!!
This has been a guest post by Pamela Boyd, Artistic Director of MoMo Dance Company. If you'd like information on becoming a guest blogger, please email [email protected]
---