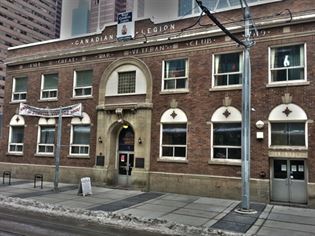 This is a guest post by Lonnie Taylor. If you'd like to contribute to our blog, please email [email protected]
It's a Monday morning. Seniors ascend the short steps in the entrance way and into the main hall. A pleasant white haired lady sits at a table greeting members by name. Inside the hall people sit at tables, relaxed, while chatting with old friends. Over the din a man stands at the front of the room and says, "Alright folks! Today we have steaks, hamburger, chicken and pork chops. Six dollars a ticket!".
The Royal Canadian Legion #1 has stood for nearly a century as a cornerstone in the community. It is a venue not only for its ageing members but also for those outside of its membership, young and old. I remember in October of 2010 meeting folks on the upper floor and shaking hands for the first time with our now popular mayor, and days shortly after watching a heated political debate in the main hall. From time to time I turn the pages of FFWD and note events held there.
Shortly after WWI approximately 300 soldiers were returning to Calgary per week after a long journey from war-torn Europe. Thousands of Calgarians returned to normal life on the prairies and, with the help of the Great War Veterans Association, a place of community. Early in those days meetings were held at the Palliser Hotel and planning commenced on the building of a permanent hall. When visiting the Legion be sure to take a look at the shovel on display, which was used by the Prince of Wales to turn the first sod.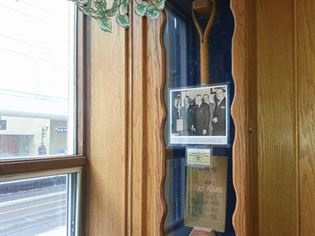 After a few years of delay the building was funded in 1922 for completion with $22,000 from the province, $30,000 from the public and a $12,000 mortgage from the city. Having visited many Legion's in western Canada I find this building to be one of the most charming. It features a sandstone brick construction that was popular in its day, largely due to a change in how buildings were built after the great fire in 1886. Most of the front entrance is adorned in wood panels and the interior calls to mind a swanky retro gentleman's club. In 1962 the building underwent a $165,000 renovation to enhance the space for its members.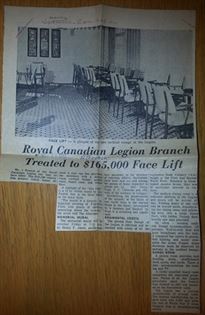 I highly recommend visiting this venue when the opportunity arises. It is a valued part of our city's history, a space that continues to be useful to the community and is a snapshot of a time when things were built in a way that may very well never happen again in our booming downtown core.
---