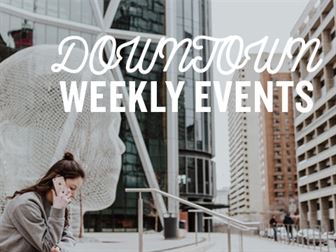 Stampede may be over but the summer is still in high gear. This week in downtown Calgary we've got the triple threat of theatre, music, and dancing - make your way to the core to catch a glimpse of it all!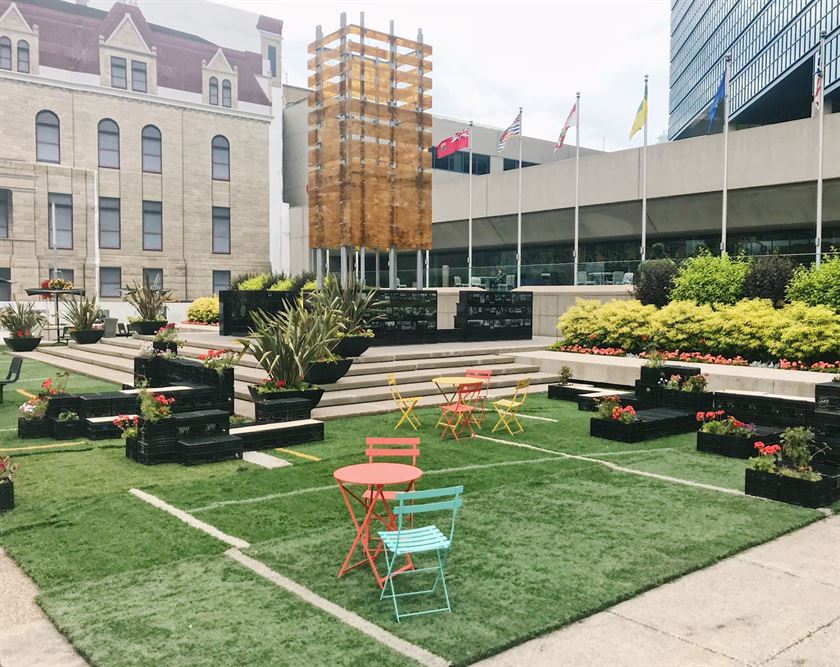 MUNICIPAL PLAZA POP UP PARK
Calgary is a city full of open, often underutilized spaces. Take Municipal Plaza for example. Most of the year the plaza sits vacant.
But what if it didn't have to? Imagine it transformed into a place to hang out, relax and socialize with your fellow Calgarians. Well, this summer, that imagination will become reality.
From July 10 – 24, The City will be temporarily converting Municipal Plaza into a lively pop-up lab with colourful seating, AstroTurf and fun recreational opportunities. We invite you to come down to the space to enjoy your lunch, play a game of checkers, participate in a free fitness class or learn how to play pickle ball.
Programming Schedule:
Tuesday, July 17
- Calgary Public Library Pop-up Library, 2 - 4 pm
Friday, July 20
- Free Yoga Class, 11 am - 12 pm
Tuesday, July 24
- Calgary Public Library Pop-up Library, 2 - 4 pm
10-MINUTE PLAYS FOR JANE'S WALK
Three plays about Calgary take place along 8th Avenue. 1st location the Conversation Statue; 2nd in front of the Telus Convention Centre, 3rd in front of the Glenbow Museum. 10-Minute Plays is a partnership between Theatre Junction, ATP and The Calgary Foundation.
The plays will be performed each day in succession (30 minutes of programming). The length of the program depends on the time it takes for walkers to get to each play destination. Each performance day will be no more than 60 minutes in total.
July and August, 2018
Wednesdays: 3pm - 4pm
Saturdays: 12pm - 1pm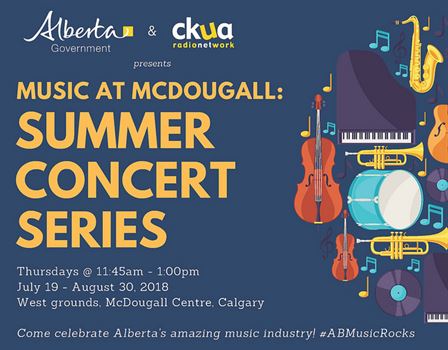 MUSIC @ MCDOUGALL
The Government of Alberta and CKUA Radio are proud to present a free weekly summer concert series. Musicians and artists from across the province will perform every Thursday during the lunch hour from July 19 to August 30 on the west grounds of McDougall Centre (weather permitting).
Performances start at 11:45 a.m. and conclude at 1 p.m.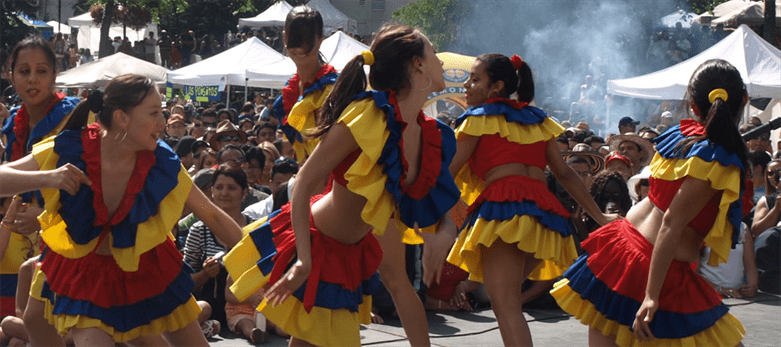 FIESTAVAL LATIN FESTIVAL
Fiestaval is a free and family-oriented, multicultural arts and entertainment festival highlighting the Latin American Culture. It will take place in the heart of downtown Calgary at the Calgary Olympic Plaza on July 20, 21 and 22 2018. It is an opportunity to support Calgary's Latin community while encouraging multiculturalism among all Calgarians.

ALSO THIS WEEK
Unveiling Infinity
July 17 - 19, 2018
Experience the ancient age-old meditation techniques which have been unravelled never before by global peace ambassador and spiritual master, Sri Sri Ravi Shankar.
Calgary Turkish Festival
July 19 - 22, 2018
Displaying Turkish art, folk dance, music and gourmet food, where visitors will get an opportunity to celebrate, learn, and savour Turkish hospitality, culture, heritage and cuisine.
Salsa on the Street
July 20, 2022
Expo Latino wants to show off Calgary's fantastic downtown area and help you let loose. Events will take place every Friday from 6-9 on the West 100 block of Stephen Ave.
India Film Festival of Alberta
July 20 - 22, 2018
Bridging Cultures Through Cinema, the India Film Festival features several award winning and independent movies from India and will be travelling to Eight cities in Alberta.
View more events
If you want to see more events happening this week and the weeks to come, visit our Event Calendar.
Share your event
Have an event happening downtown? We want to hear about it! Either Add Your Event or email us at [email protected]
---