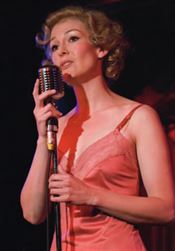 BLANCHE is coming home.  After a summer spent treading the boards stateside, Calgary's it girl of musical theatre, Onalea Gilbertson, is bringing home her original production of BLANCHE: The Bittersweet Life of a Wild Prairie Dame for an extended run during the 2013 High Performance Rodeo.
Billed as a theatrical poetic song cycle, BLANCHE explores the life of Gilbertson's grandmother, a vivacious belle of the Alberta prairie.  Through a depression-era upbringing, two widowhoods,  and five children whom she raised mostly single-handedly (while throwing legendary parties), Blanche Gilbertson embodied the independent western spirit that built this province.  Before her death, her stories were gathered and recorded by her granddaughter Onalea, who turned them into songs.
BLANCHE was originally commissioned for the Banff Centre and was workshopped at the Sunset Theatre in Wells, BC.  The musical production premiered Off Broadway in 2011 as a special event of the New York Musical Theatre Festival, and was pronounced "one of the 20 best shows of 2011" by the Huffington Post.   In July 2012, BLANCHE played the Capital Fringe in Washington DC, where it was awarded 5 stars.  It received similar accolades when it played the NYC Fringe in August 2012.
At last, BLANCHE is coming home to Calgary.  A co-production of High Performance Rodeo and Lunchbox Theatre, BLANCHE: The Bittersweet Life of a Wild Prairie Dame is a haunting amalgam of jazz, folk, torch and chamber music, from one of Calgary's most prolific performers.  It promises to be a top pick of this year's High Performance Rodeo.
What:                BLANCHE: The Bittersweet Life of a Wild Prairie Dame
Where:              TransCanada Stage, Lunchbox Theatre, 160 - 115 9 Ave SE
When:               Jan 14-26, 2013
Show Times:    Mon-Sat 12:10 pm, Friday 6:10 pm, Saturday 7:30 pm
How Much:      Adults = $28, students & seniors = $25,
Get Tix:             Lunchbox Theatre box office 403-265-4292 or online
---