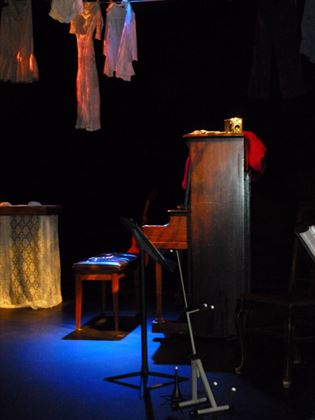 Want to squeeze a little High Performance Rodeo into your busy day?  Why not pack a lunch and head over to Lunchbox Theatre's TransCanada Stage for a noon performance of  BLANCHE: the Bittersweet Life of a Wild Prairie Dame?  Created and performed by Onalea Gilbertson, the one hour co-production of High Performance Rodeo and Lunchbox Theatre has all the music, drama and passion that can possibly fit into 65 short minutes.
Upon discovering a small leather-bound photo album in her grandmother's room at the nursing home - an album filled with Depression-era pictures of young people laughing and having the time of their lives - Onalea Gilbertson, Calgary's own IT girl of musical theatre, began recording interviews with her grandmother, intent upon learning more about her life and her indomitable spirit. It turns out Gram Blanche was a helluva girl.
The belle of Hughendon, Alberta whose suitors lined their horses up along the farmyard fence, Blanche would pose for photos dressed in her boyfriend's suits.  As a teenager during the great Depression, she went to work for the Gilbertson family, cleaning and cooking for the houseful of children and hired men.  It was there that she met and married Bill Gilbertson, was tragically widowed at 23, and subsequently married his younger brother, Woody. With Woody working in the oil fields most of his life, she raised their five children primarily alone, occasionally bringing the family out from Calgary to spend time on the rigs, and famously throwing legendary parties every weekend.
These are the tales and the people that live in the songs of BLANCHE: the Bittersweet Life of a Wild Prairie Dame.  In a production that the Huffington Post called "one of the twenty top shows of 2011" when it premiered Off Broadway and that garnered five stars at the Capital Fringe in Washington, this High Performance Rodeo and Lunchbox Theatre co-production brings to vibrant life a personal family history that strongly reflects the pioneering spirit of this province.  It was a spirit that was fiercely embodied in the person of Blanche Leadlay Gilbertson.
Performed mostly solo, BLANCHE is a theatrical song cycle, in which Gilbertson sings, sometimes as Blanche, sometimes as Onalea.  While her grandmother's raspy voice provides an interlude between musical numbers, vintage photos and home movies project onto a sheet flapping on a clothesline, giving flashes of Blanche Gilberston's life.  On stage, Onalea Gilbertson sings and dances and flirts with Jonathan Lewis on violin and clarinet, Brian Sanders on cello, and Jeff Gladstone on guitar, as they step into the roles of the men in Blanche's life. Upbeat jazz numbers, sultry torch songs and wistful chamber music, blend and swirl into a dance of a life well-lived.  It's a life and a show well worth examining.
Onalea Gilbertson, has been doing some really interesting work lately, both on and off the stage.  In 2008, she formed the DI Singers, a choral group made up of residents of Canada's largest homeless shelter, the Calgary Drop In Centre.  Last summer she took a group of those musicians to New York to perform in an Off Broadway production of her musical Requiem for a Lost Girl.  Now that she has brought BLANCHE home to Calgary, Onalea Gilbertson is introducing this wild prairie dame to her most important audience to date, her own hometown.
Blanche: the Bittersweet Life of a Wild Prairie Dame plays at Lunchbox Theatre (160 - 115 9th Ave SE) until January 26.   Showtimes are 12:10 pm with additional evening performances Friday at 6:10pm and Saturday at 7:30pm. Tickets are $28 for adults, $25 for students and seniors, available at 403-265-4292 or online.

---