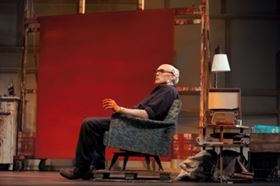 Mark Rothko was an abstract painter of the 20th century, and one of the characters in Alberta Theatre Projects stage production of Red. The play tells of Mark Rothko (Allan Morgan) and his assistant Ken (Braden Griffiths), and how their relationship evolves and grows, sparked by confrontation over art and it's purpose.

Red is a play that examines art. It gets into the nitty gritty of it and the characters examine the purpose of art in complex circles. Ken comes into the job and Rothko is very clear about his purpose in the studio. "You will prime the canvas, you will get me whatever I want. I am not your friend or mentor, I am your employer." It's at this point in time, that it would be fitting to say that the relationship turns out to be much more than he bargained for. But that isn't the case with this narrative.
Rothko continually berates Ken, saying that he doesn't have a right to an opinion on his work, and that he will never understand his colleagues. Which lends to the questions as to why Ken sticks around and the only answer to that question is that he feels that he will learn a great deal from the talented Rothko. But this is not enough for the audience to build a connection It turns around, as the play delves into the more probing questions about art, and the discussions that take place on stage are intriguing and interesting. But as the character Rothko says himself, he doesn't want his paintings to be 'pretty' or 'beautiful' or 'fine'. "We are everything but fine." And the audience must agree.
Red is interesting and probing and presents depth on the subject of art and it's purpose. But it's not heart wrenching even when it means to be. There is a particular point in the play, where Ken is explaining how his parents were killed, and it's supposed to be a sad and poignant scene, but unfortunately it misses the mark. There isn't enough of a connection to Ken to have this be a grabbing scene.
Which isn't to say that Morgan and Griffiths don't make the most of what they are given. Griffiths conveys his character in the quieter moments of the play and Morgan portrays the cranky, pretentious Rothko with ease, and he looks the part, right down to the hair that is not on his head. Narda McCarroll's set design has the stage covered in paint and canvas and is rounded off with an old record player. Peter Moller's sound design of classical music fits the busy set.
There is enough discussion about art and art movements, with specific commentary on Pop Art and it's function in relation to abstract art, provokes the audience member who is interested in that kind of conversation. There is also enough surface characterization so that play is moderately compelling. But Red lacks heart, to reach in and grab the audience. Which is what Rothko was trying to do with his paintings. It was he who said "a painting is not about an experience. It is an experience."

Red plays at Alberta Theatre Projects until May 18th. Tickets and more information is available at www.atplive.com
Photo credit: Trudie Lee Photography
---