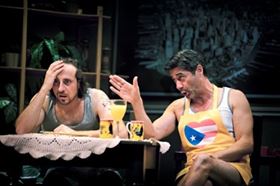 Alberta Theatre Projects The Motherf***er with the Hat is littered with profanities and vulgarity. It opened on Broadway in 2011 to mixed reviews but was nominated for multiple Tony awards. Alberta Theatre Projects has chosen this play to open their season and it isn't for those of us who are easily offended. But the heart of the story is about the purpose and meaning in life, the joy that you find within after you wash away all the glitter and glitz.
The play tells of Jackie (Haysam Kadri) a former drug dealer who has served time in jail for his crimes, trying to remain sober and piece his life together. His girlfriend Veronica (Carmen Aguirre) is still using, but support Jackie in trying to remain sober. Things start to fall apart when he find a hat that isn't his in his apartment and accuses Veronica of cheating on him. Rather than explore his 'capacity for violence' Jackie meets with his sponsor and mentor Ralph (Beau Dixon) for guidance. Ralph seems to have it together, but his relationship with his wife Victoria (Melanee Murray) doesn't seem to be smooth sailing. He hilariously describes it as living with Mussolini. Despite his efforts to have Jackie remain calm, he still winds up purchasing a gun that he has to hide at his cousin Julio's (Francisco Trujillo) house. As the story unfolds it delves into infidelity and love, and the things that drive us to keep living.
The Motherf***er with the Hat is funny and unapologetic about being ruthlessly in your face. It's not a happy go lucky story, but it does explore relationships between characters who want to fill an emptiness that they all feel. They all have a different approach. Ralph doesn't care who he walks all over, because it all doesn't matter anyway, whereas Jackie would rather 'shoot himself in the head' if he had that world view. They are all fairly terrible, imperfect people and that's the beauty of the story.
Ultimately the audience feels an affinity for Jackie and Kadri makes this really easy. He puts forward a great performance as Jackie, pouring himself into the role. The viewer really feels the heartbreak and hope with him. Dixon sinks into the manipulation and arrogance of Ralph while Aguirre's performance is pretty solid. Tujillo's Julio is a character of comedic relief most of the time and sometimes the audience can grow bored with this. At one point he tells a story about why he stands by Jackie and this telling is quite touching.
Peter Moller's sound and composition design really captures the fun on the production as the songs that play between transitions are upbeat and catchy. Narda McCarroll's set design allows for a bed that moves in and out of the wall, and drapes that drop from the ceiling, allowing scenes to switch locations without much changing.
When you strip away all the profanity from the storyline, the narrative of the play is really a engaging story of flawed human beings and their fight to keep going.
Alberta Theatre Pojects The Motherf***er with the Hat runs until November 2nd. More information and tickets are available online.
Photo: Haysam Kadri as Jackie and Francisco Trujillo as Cousin Julio. Credit: Brian Harder
---