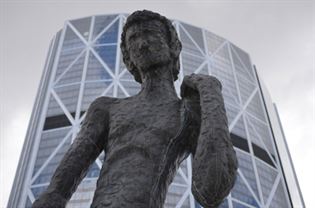 Calgary boasts a bounty of artwork that is free for the public to view. The City of Calgary's Civic Art Program consists of about 1,000 works of art! Half of those are currently on display throughout the city, including drawings, paintings, photographs, sculptures and other forms that can be found at over 60 sites.
Now, I know what you're thinking. That's great, but who has time to visit 60 locations?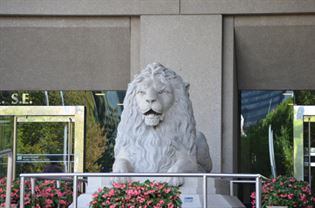 A great way to start is to take the Downtown Public Art Circuit tour. The tour takes you through several downtown buildings and Plus-15 corridors. It takes about an hour, is self-guided, free and is kind of like a scavenger hunt (well, for those of us directionally challenged, anyway). On your quest, you will see several works of art including the Family of Man and one former Centre Street Bridge lion, at his new post as he guards the entrance to the Municipal Building.
To assist you with your mission, the City of Calgary website offers a few options. For the most interactive experience, I recommend that you download the app (for iPhone, iPod touch or iPad only). If those devices don't exist in your electronics inventory, don't despair, you can download the podcast or call the listed number to listen to the narrative. There is also a brochure available that you can print off or pickup at various locations including the Calgary Downtown Association offices, although it is not as up-to-date as the app.
You also need to be aware that the Plus-15 system is accessible from 7am to 6pm, Monday through Friday, which is fine for those out-of-town folks who are vacationing in our lovely city and have plenty of free time. If you are a hard-working Calgarian, located downtown, make it a fun lunch hour activity – that is much more appealing than staring at your spreadsheet, while you quickly inhale your sandwich. If you don't have an entire hour to spare at once, spread it out over a couple of days or finish up after work. If you don't work downtown, add the tour to your list of must-dos during your next "staycation".
I did find that there were some restrictions due to certain Plus-15 closures, which aren't indicated on the app or brochure. So, you may not get to see all of the art listed (presently 15 pieces). However, don't let that deter you - it is a great tour nonetheless. You'll just have to return when they re-open, which is definitely not a negative. Plus, there are unexpected finds along the way, which adds to the experience (hint: be observant and you may spot a pink gopher that once lived in Olympic Plaza).
So, get some exercise, see some art and have fun investigating downtown. You will probably end up wanting to locate the other 485 or so pieces on display.
Visit the City of Calgary website for more information.
Warning – any calories you burn may be offset by the consumption of tasty pastries or scrumptious meals, available at one of the many coffee shops or restaurants you will encounter along the way.
(Editor's note: Driving in to the downtown core? Need some help finding parking? Check out our Downtown Parking Tool http://parking.downtowncalgary.com/)
---