The word culture means something a little bit different to everyone, but basically it refers to the beliefs, customs, arts, etc, of a particular society, group, place, or time.  It's what makes us who we are and, in turn, we make it what it is.  To celebrate our uniqueness, the Government of Alberta has an annual celebration aptly named Alberta Culture Days, which runs from September 27 - 29 this year.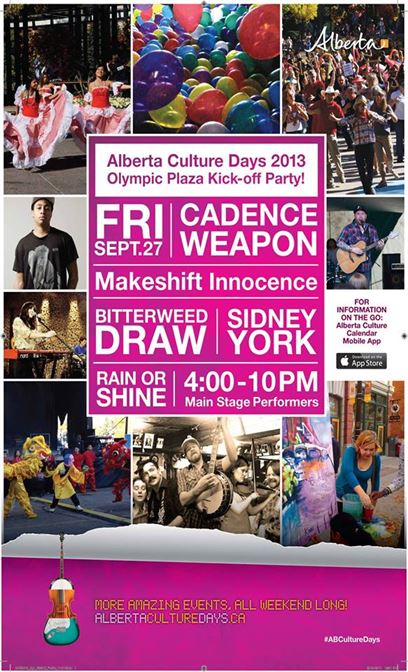 The purpose of this celebration is to "showcase the province's artists, arts organizations, cultural industries and other related cultural activities; encourage Albertans and visitors to discover, experience and celebrate Alberta's unique and talented artists and cultural expressions; promote the importance of culture as part of a prosperous and vibrant province; and ensure Albertans, throughout the province, have access to a wide range of cultural experiences and opportunities."
The 6th annual Alberta Culture Days will kick off in Calgary with a FREE party at Olympic Plaza on Friday, September 27, 2021 from 4:00-10:00 pm.  Performances will include Sidney York at 5:30pm, The Bitterweed Draw at 6:30pm, Makeshift Innocence at 7:30pm, and Cadence Weapon at 8:45pm. This event happens rain or shine.  More info can be found here.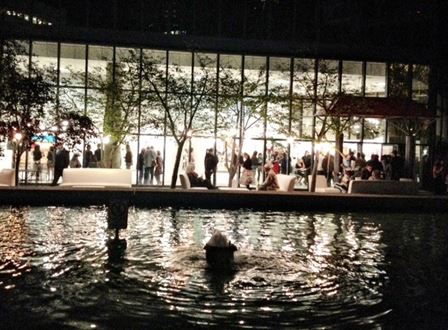 The Museum of Contemporary Art (MOCA) and EPCOR Centre for the Performing Arts will also both be open to the public free of charge on Friday, with art exhibitions and interactive demonstrations, plus food trucks and children's activities.
Doors Open YYC is also taking place from September 27-29, which ties in perfectly with the concept of Alberta Culture Days.  There will be numerous opportunities to explore and "create enthusiasm for heritage and contemporary architecture, and increase the appreciation of historic and culturally significant places and spaces."
After being recognized as the Cultural Capital of Canada last year, it's safe to say that Calgary has a lot to offer in this department, so let's get out there and enjoy it!
---