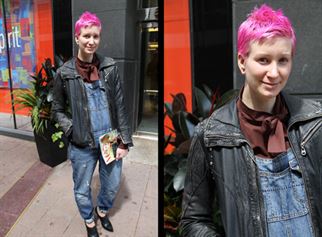 After living in Calgary for the past few years I've had the great pleasure of attending fantastic events, festival and parties, although there's one major party that I had yet to make an appearance at: The Pride Parade!
I was really excited to make my way downtown to check out the festivities, and I must say I have a new appreciation for parades. The day was colourful, fun and full of amazing energy that was absolutely contagious. It was amazing to see so many versatile people out celebrating and enjoying the day together. There was laughter, dancing, and of course, a lot of fantastic outfits and costumes to check out.
Aside from the parade and celebrations of the day, I had another fun-filled month photographing stylish strangers. Moving from summer's high heat to a very sudden fall, I captured a little bit of everything, from shorts and t-shirts, to blazers and very strong and promising beginnings of fall wardrobes. Throw in beautiful hot pink hair, a few fantastic hats, and great glasses to complete the mix!
And now the parade!
---