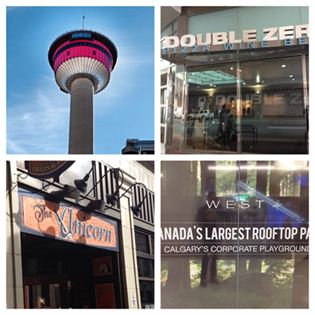 Those who live and work in Downtown Calgary are pretty familiar with the Plus 15 network. The intricate network of sky-walks connect many of Calgary's busiest and most iconic skyscrapers and during certain parts of the day they can resemble a beehive swarming with workers crisscrossing this way and that.
I haven't lived in many other cities, but Calgary seems rather unique in this way. While Montreal has an extensive underground city in it's downtown, ours is the only downtown I know of that has a thriving above ground district. It's where many of downtown Calgary's office workers get their lunch, hold impromptu meetings, and bump in to old friends and co-workers.
In addition to the many fast food choices at the many food courts in the CORE, Scotia Centre and many of the other office buildings there are a number of great dining choices whether you want to go up, down or way up!
Down: Much like the classic sitcom Cheers, make your way down the stairs for an authentic pub experience at the Bear & Kilt, the Unicorn or Below Deck Pub. It might be difficult to navigate the stairs after a few pints, but when everyone knows your name, you're likely to find someone to carry you up.
Looking for a spot of entertainment with your drink? Try Wine-OHs, which has a cute restaurant upstairs and is home to regular musical guests downstairs. For bonus points, enter through the door on the alley for an authentically jazzy entrance.
Also on the down low is Double Zero Pizza. Located in the CORE, this pizza joint is anything but usual. Dive down in to beautiful thin-crust pizzas cooked in classic pizza ovens. Personally, I'm a pizza junky who likes his crust thick and greasy but Double Zero's lighter faire is a very appetizing change of pace.
Up: If going up is more your style, you're in good company. The entrance to West Restaurant & Bar is on the second floor of Scotia Centre and features a range of menu items and cocktails perfect for lunch or some after-work relaxation. During the summer, be sure to checkout their rooftop patio for a unique perspective on downtown Calgary, according to their sign it's the BIGGEST in Canada.
Also on the up-and-up, is the Murrieta's patio overlooking Stephen Avenue. Next time you're walking by the corner of 8th ave & 1st street SW, take a look up and you might see one of your coworkers enjoying one of Stephen Avenue's best-kept secrets.
If you're in Banker's Hall make your way to the 2nd floor for the Orchid Room. Across the way from the already amazing Food Court, the Orchid Room fuses Vietnamese, Thai and French cuisines and has a quaint atmosphere great for a quick business lunch or a nice dinner before a show.
WAY UP: If you thought eating a fancy meal fifteen feet above street level was fun, try dining at 600+ feet at Sky360. Located in the Calgary Tower, Sky360 features a rotating dining room that will literally give you a new perspective on Calgary. Enjoy a full range of dining options including an express lunch that is sure to impress your business clients, or make an evening reservation and enjoy a romantic evening with that special someone!
Personally, I had my doubts about a revolving restaurant (it rotates once per hour during lunch) but the food and view really changed my outlook on this fun spot (pun intended).
Calgary Tower Photo credit: Morgan Garvin
---