To say that photographing Aleah Dunfield was fun and exciting is a complete understatement, as the woman in front of my lens stopped traffic and passers-by as we captured her fabulous style near Fashion Central on a lovely and warm summer day.
She's stylish and gorgeous, and with her beauty also comes a lot of drive, motivation and talent. She's a force to be reckoned with, and I personally can't wait to see what more amazing things Dunfield gets up to. And what stylish and fabulous outfits she'll be wearing while doing all of these amazing things!
She's the woman behind The Creative Patch Design Studio Inc., a business venture she began on her own a few years ago, but it took a few adventures and cities to get to where she is today. She doesn't hesitate to share her story, while also sharing words of wisdom to new entrepreneurs who are just starting out.
She was born in Saskatchewan but raised in and around Calgary, where she attended the Alberta High School of Fine Arts in Okotoks, and after graduation, she moved to Vancouver to attend Emily Carr to complete her degree in Photography and Design. She started freelancing in Vancouver and when she finished school she decided to head out of Canada just as the recession hit, as she knew that it would be difficult to get a job, making it the perfect time to go on an adventure.
After working as a freelancer, travelling and living outside of Canada for a year, followed by an apprenticeship in the oil and gas industry, Dunfield decided that it was time to start her own company.
I had the lovely pleasure of sitting down with Dunfield to chat about her art, her passions, life in Calgary, her business, and a little bit of style of course. But aside from sharing that she loves Breakfast at Tiffany's and the late 1950s for style, I will let the photos of her two fabulous outfits do all of the style talking!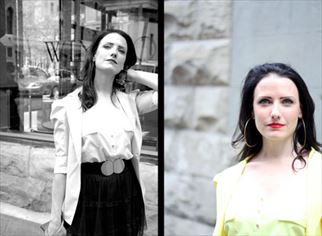 Outfit One: I love bold colours, and with her skin tone and dark hair, the yellow blazer and top are perfect for Dunfield. Layering two similar shades can look really fantastic, as is the case here, and the contrast between the light and dark works really well, especially when broken up by a funky belt. This outfit definitely speaks the story… Dunfield is a fun personality willing to experiment with her style.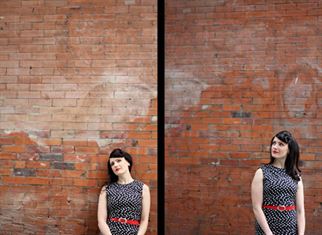 Outfit Two: There's nothing like a sexy and bold dress to take your personal style to the next level. Dunfield's style inspirations are clear here, with a little pin-up influence thrown into her ensemble. Red accessories are the perfect touch to bring the polka-dot dress alive.
And now for the Q&A!
After you graduated school, you went travelling for a year. Where did your travels take you?
I went to Thailand and Bali, mostly, but I also went to Western Europe, Malaysia and Cambodia. I went and followed my intuition. I had the first night booked and then I just went wherever I wanted to go. I ended up living in Bali and doing yoga and mediation and ended up in a monastery in Thailand as well.
Why did you come back to Canada? 
My dad asked me to come back to Canada and do an apprenticeship with him in the Oil and Gas Industry, so I did that to get more experience in order to start my own business once I was finished.
How did your entrepreneurial journey begin?
iPhones came out and my brother needed an app designed (the user interface for the actual app) so I did it up as I had experience with both web and graphic design. I did my first iPad app and then started getting more work in that field. It kind of fell into my lap, but it's interesting how it all unfolded. I had been doing graphic design and websites while I was going to school, so I just continued doing that. I got an early hard business lesson and I ended up leaving Calgary for a bit to expand my business up north in Fort St. John. I got to work with Ford and some other bigger names, which was really exciting for me.
What is your company and what exactly do you do?
My company is called the Creative Patch Design Studio Inc. I wanted the Creative Patch to be a hub of creativity. It doesn't have to be about designing a website or app, it can be creative consulting and a wide range of other things. We offer everything from websites, apps, billboards, motion graphics, info graphics, logos, branding, online marketing, strategy, and creative consulting.
I've been expanding and my company does work for clients from oil and gas to artists, musicians and my client base is really diverse and based all over the world, from Fort St. John, down to California and Bermuda and back.
You're also an artist. Tell us about your photography. 
I also do Photography and last year I was part of a tech start-up, which is also another reason why I came back to Calgary. After I finished Emily Carr I had some commercial showings of my art. My photography is more traditional processes and I do more mural pieces where I take different photography processes and I layer them so they look more like paintings. I took a break from that because I got really saturated and I was trying to really focus on my business, but I'm slowly getting back into art, primarily with painting. I'm also building a dark room in my basement.
What does your life as an entrepreneur look like?
I'm still working on the entrepreneurial roller coaster. Some days, the cheques are coming in the mail and you have so much work that you don't have time to really put your head down to even sleep, and it's great because you're on this sales high. But then you have this moment where the projects wrap up and you go through a dip or you just get exhausted. I find that having and sticking to a schedule really helps you get through that.
How do you get through the low points?
Grateful journals are helpful. I write all of the things that I've achieved and I look back on those. As entrepreneurs we are always pushing for the next thing and not really acknowledge when we've hit a milestone, so my motivation really comes from looking almost backwards and being proud of myself and how far I've come.
How do you stay motivated and creative?
As far as creativity goes, if I feel that it's lacking, I just take a break. I get out of the city and I go to the mountains and then when I come back I feel like I have  a new perspective. Sometimes when your'e just looking at a computer for a couple of months on end, you just need to change your surroundings for the motivation to return.
What advice do you have for others starting or in the early stages of their business ventures?
My first piece of advice for freelancers is to make sure that everything is in contract, no matter who your client is. Absolutely everything, and get a deposit! You really need to protect yourself. That way everyone is clear on the payment schedule. When you're first starting out, you feel like your head is spinning because you have so much to do that you don't know where to start. It's all about habit making, setting a schedule and being rigid with yourself.
Why are you excited to be in Calgary? 
I wanted to come here because I realized that I have a unique position because I understand tech, design and I also understand the oil and gas industry. I speak the language and also understand the business, which is great for what I do. I lived in Vancouver for years and I had a great community there, but nothing like the community that I have here. It's been wonderful to see that there are a lot of artists here and a lot of artists that have day jobs and careers, but they also do art. There's this really wonderful balance that seems to exist in Calgary between passion, family, community and career.
I've met some amazing and wonderful people and I find that people here are so supportive, which I love. My company wouldn't be where it is now if i didn't have the support of the Calgary community, which has been a huge blessing!
---