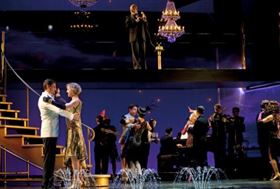 Baz Luhrmann released his film version of The Great Gatsby this past summer, placing a major emphasis on making it visually stunning but sacrificed the heart of the narrative. The challenge to portraying F. Scott Fitzgerald's novel is in capturing the themes while illustrating the indulgence and abundance of the times. It's a challenge that Theatre Calgary is now taking up, The Great Gatsby is the second play in their season and the company's production falls short of striking that careful balance.

Though director Kim Collier states that Fitzgerald's lines informed the spirit of the production, and though the stage adaptation is true to the novel, it falls on the side of trite on more than one occasion. The line about Daisy and Tom smashing up things and leaving others to clean it up is supposed to be a line in the novel that resonates, and doesn't stand out as much on stage. The production closes on Nick's soliloquy about being 'borne back ceaselessly into the past,' and it's quite ruined by the entire ensemble lined up on stage raising their arms, illustrating how we 'stretch out our arms further' and are the image of zombies. But it doesn't all fail to resonate. Daisy's assertion that she hopes that her baby girl grows up to be a beautiful fool, because that's all a girl can hope to be, is delivered quite well. The production also features some exceptional performances and innovative design work.
Craig Erickson's Tom Buchanan, Bob Frazer's Gatsby and Jonathon Young's Nick Carraway are all adequate performances. They don't stand out in comparison to the women in the production, particularly Amy Rutherford's Daisy, Celine Stubel's Myrtle and Jamie Konchak's Jordan Baker. Rutherford in particular embodies the shallow Daisy, drenched in riches and without a backbone. Stubel isn't central in many scenes, but when she is on stage she keeps everyone's attention. Konchak is solid as Jordan Baker.
Judith Bowden's set design, with large columns and glittering chandeliers, complete with water fountains on stage, coupled with Alan Brodie's lighting design of deep blues and playful pinks helps to illustrate the setting of riches and indulgence. Bowden's costume design adds a flare with feather boas and colourful sparkling dresses.
Theatre Calgary's The Great Gatsby isn't an outstanding theatre piece, because it doesn't deliver on all of the elements. It doesn't completely lose the heart of the narrative, but the heartbeat isn't very strong.
Theatre Calgary's The Great Gatsby runs until November 10th. Tickets and more information is available online.
Photo Credit: Trudie Lee Photography
---