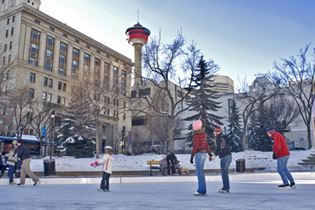 By Matthew Ryan, Concierge, Hyatt Regency Calgary
Now that the colder days have arrived here in Calgary, visitors and Calgarians alike are looking for some fun and interesting things to do indoors.
Start your day off at the 1886 Buffalo Café. Located at 187 Barclay Parade SW in the heart of Eau Claire, the 1886 Buffalo Café a favorite spot in Calgary to go and enjoy an amazing, home-style breakfast, and it also represents a unique piece of local history.
The building is over 100 years old, and was once the home of the Eau Claire and Bow River Lumber Company, which was founded by Peter A. Prince.
After a hearty breakfast, take a short stroll over to the Chinese Cultural Centre, located at 197 First Street SW. The inauguration of the Chinese Cultural Centre marked a new era in actively promoting Chinese culture to the mainstream, fostering cultural exchange between the East and West while meaningfully contributing to the Canadian spirit of multiculturalism.
Be sure to visit the Chinese Artifacts Museum located lower level of the Culture Centre, showcasing rare replicas of different types of Chinese artifacts such as replicas of horses, life-sized terra-cotta soldiers in various postures, and the mighty chariot.
After taking in the rich history of the Chinese Cultural Centre, take the +15 walkway and head over to the Winter Garden located in the Jamieson Place building, located at 308 4th Avenue SW.
The building opened in December 2009 and was named after Alice J. Jamieson, the first woman to be appointed Judge of a juvenile court in the British Empire, and later to become the second female police magistrate in Canada presiding over the Calgary Women's Court.
The Garden is home to a variety of foliage including bamboo and ivy plants, and a stunning Green Wall located on the west side of the Garden. This Green Wall is the first of its kind in Western Canada, with over 20,000 plants set into the backdrop to create a spectacular living wall.
Another great feature of the Winter Garden is the chandelier-style blown-glass sculptures that hang over the infinity pool in the centre of the Garden. Entitled "Winter Garden Chandeliers", these three sculptures were created in Washington, USA, especially for the Winter Garden by Dale Chihuly.  Seating areas have been strategically placed throughout the Gardens for you to take a moment and enjoy them.
After a day of wandering, stop by the The Trib restaurant for a late lunch or early dinner.  Located at 100 - 118 8th Ave SW, and situated in a Calgary Heritage building, the Tribune block, on vibrant Stephen Avenue. The Trib offers a glance through history while providing an upscale atmosphere and fantastic menus to relax and enjoy sumptuous food.
If your day isn't quite finished, you can take a short walk to Wine-Ohs located at 811 1st Street SW. Wine Ohs is an unpretentious Wine Bar, Bistro and Live Music Venue. Enjoy a glass of wine, quality food, and great live music. Not into wine? Don't worry, they have beer and cocktails too!
This is a great way to spend a cold day indoors with fun and flare. Enjoy.
This has been a guest post by Matthew Ryan on behalf of the Hyatt Regency in Downtown Calgary. If you would like to write a blog post about your downtown business, contact [email protected] for more information.
---