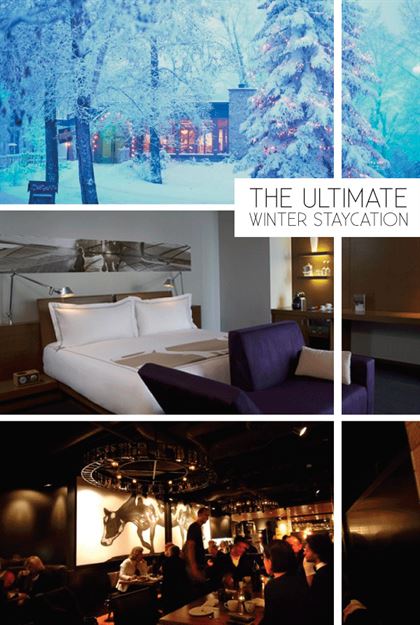 Months like November, February and March give you the kind of Calgary "blahs" that makes you want to hop on the next flight to Hawaii - never to return. Instead of just giving up on ever having a good time here, why not experience the city in a whole new way. Plan a mid-winter staycation that will blow the socks off of any tropical destination in terms of culture, dining and shopping. It can happen - trust me. There is so much to see and do in downtown Calgary that you'll hardly remember that you are in your hometown.
November is actually one of the best months to plan a staycation because with the holidays rapidly approaching there is lots of great Christmas events, shopping deals and just a general happy vibe in the air. Plus, with all the twinkle lights glistening on Stephen Avenue, it is hard not to fall in love with Calgary all over again.
Where to Stay
Hotel Le Germain: This beautiful boutique hotel directly in the heart of downtown Calgary will sweep you off your feet and give you a brand-new look at the city. With incredible views and stunningly chic suites, your stay here will certainly be memorable.
Where to Shop
The Core Presents Twas the Night: A night not to be missed, November 27th marks the third annual Twas the Night Shopping event hosted by CORE Shopping. Touted as the biggest holiday shopping night in town, it is just one big (free!) party celebrating the holidays and all the amazing shopping that goes along with it. With special guests Dan Levy and Jann Arden in attendance, it will certainly be a night to remember.
Where to Eat
Weekend Brunch: River Cafe - Most definitely the most romantic spot to dine on an exquisite brunch, the River Cafe is the perfect staycation eating spot as you literally feel like you are in the middle of the countryside. Even more so in winter, it is hard to imagine that this gem is only steps away from the metropolitan downtown core. Our pick? Why not spoil yourself with the Brioche French Toast drizzled in Quebec Maple Syrup served up with a sparkling Maple Rosemary Lemonade. Perfection on a plate.
Lunch: Cucina - One of the best new spots opening just over a year ago, Cucina prides themselves on creating fresh and delicious European-inspired dishes along with incredible take-out options. The Porchetta Risotto is an absolute must.
Happy Hour: Mango Shiva - You cannot go wrong with delicious $5 cocktails paired with tasty Indian appies - it is an honest truth. From 2-6pm, make your way to Mango Shiva for an indulgent afternoon of West Indian Juleps and Vegetable Pakoras.
Dinner: Charcut - Dinner at Charcut is practically a rite of passage for anyone visiting Calgary for the first time. Why not see it with fresh eyes yourself and treat yourself to an evening of MEAT. The Share Burger is quite honestly the most epic thing you can get there - a minimum 9oz patty of roasted garlic sausage with cheese curds and a fried egg. Eat up!
Something New
Why not try something completely new to you while on your staycation? Whether it be going up to the glass floor observation deck of the Calgary Tower (so many Calgarians have not done this) or seeing a production at Alberta Theatre Projects - the possibilities are endless.
---