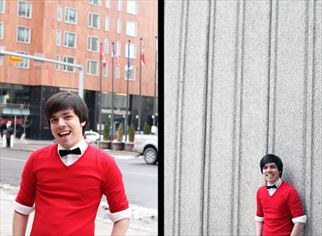 When I met Eugenio Sáenz Flores I instantly knew we would become quick friends. His smile and laugh are contagious, and he's one of those people that you want in your life, so that not only can his great energy and sunny disposition rub off on you, but most importantly, so that he can tell you all about his exciting life.
From working in Theatre as a Technical Director, to salsa dancing at La Vida Loca, Flores is also a huge Calgary Flames fan, an individual who is artistic, and of course, fashionable. From Mexico City, to New York, Montreal and Banff, he somehow landed in YYC - to create theatre legacy, perhaps? For sure to add a little bit of colour to the streets of Downtown Calgary, bow tie and all.
How did you end up in Calgary? 
While working at The Banff Centre for the summer, I started looking for jobs for the theatre season. I applied to a couple of jobs around Canada and I landed this sweet gig at Vertigo Theatre as their Technical Director. So I packed my bags - once again - and moved here in August 2012.
Why do you choose to call Calgary your home?
I moved here because of my job. I think Calgary is an amazing growing cultural city that has great potential for my personal and professional growth within the arts.
How long have you been working for Vertigo Theatre?
I began working August of 2012 so that makes it 15 months. My very first show that I did here at Vertigo, Double Indemnity, won the Betty Mitchell Theatre Awards for Best Set and Lighting Design.  Even though I did not design the set or lights I was pretty involved in the process of making the design work. We had 11 venetian blinds that had to be able to lower, open and close all from back stage. Two of them needed to be on a track to be able to move on and off stage. I think we broke a couple laws of physics. The show was stunning!
What were you doing before your Vertigo gig?
I graduated from The National Theatre School of Canada in May of 2011. During that summer I worked on the Mexican Production of Spamalot in Mexico City. After that I moved to NYC to work with a Production Management company where we did two touring shows, four off-Broadway and 13 Broadway shows. Three of them got the Tony Best new play, best revival of play and my favorite ONCE: a new musical which got best new musical plus seven more Tony awards! It also got a Grammy!
I also did a show with William Shatner, another one with Samuel L Jackson, a show with three short plays written by Woody Allen, Elaine May and Ethan Coen… how cool is that! The show I did with Samuel L Jackson "THE MOUNTAINTOP" will have its Canadian premier at Theatre Calgary this spring. I am very excited to see it!
After NYC I moved to Banff - I know, big change - where I worked there as a Technical Director work study before moving to Calgary. While in Banff we did a concert for Blue Rodeo where I began my love for country music and summer girls.
What are some of your future career plans?
To be honest, all my life plans have turned out completely different to what I planned, luckily they have been WAY better things than what I could have imagined. If I was told I was going to be working on Broadway shows months after graduation or I would be the Technical director of a theatre like Vertigo after a year outside school I would have laughed.  I think I didn't choose theatre, theatre chose me. I don't see myself doing anything else - the adrenaline of a blackout before a show that is about to start and the hopes that everything runs as planned (which sometimes is not the case) is something that makes me want to keep doing theatre. Its like a roller coaster, even though sometimes at the end of a show you feel kinda dizzy, you just want to do it ALL OVER AGAIN!
How would you describe your personal style?
I don't know to be honest. If I could wear dress pants, or a suit, or a tie and jacket every day I would. Unfortunately I can't because of my job. I grew up watching my dad go and come from work wearing a full suit every day and now that I am a "grown up" (or that's what I like to think of myself at least) I want to dress like that so any chance I get I throw on dress pants a shirt and a tie, and sometimes a blazer, a cardigan, a sweater or even a vest – I know its no longer 2004 but I really like them. But you can't go wrong with dark jeans and a button shirt and black shoes. With that one fit you can go many places and never look either under or too dressy.
Does working in theatre affect your style, why/why not?
YES! Whenever working in period plays I always want to wear old tuxedos and long coats. I sometimes get inspired on period outfits that I later try to give them a modern take.
Working in theatre also means I have to dress ready to get dust all over me as well as ready to sweat – but I guess opening night is the night to dress up and make it all balance out.
Where do you shop?
I love H&M – I find it's a store you can go on an emergency and buy a full outfit for sometimes less than 100 dollars. ( I know I did it when an important dinner came up and I had no time to go home, I quickly went there pulled an outfit and problem solved!)  And most of the times they are very versatile items you can reuse with other stuff that will make a completely new outfit.  Also the Core has a nice mixture of stores with many different styles and price ranges.
Anything you'd like to add? 
I have also worked around Calgary Designing Sets, Lights and Costumes for smaller theatre companies. I find doing small projects outside vertigo allows me to apply different skills I wouldn't use otherwise. I also think the smaller theatre companies in Calgary are giving opportunities to new up and coming artists to explore and grow in their craft.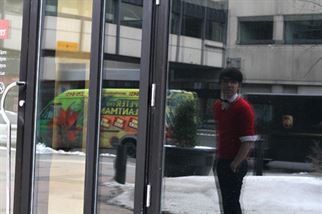 ---