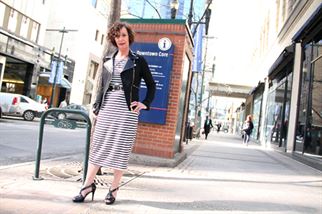 Karen Perron has a style that is sleek and sophisticated, with the perfect amount of edgy and fashion forward thrown into the mix. She gets excited when she speaks about fashion and beauty, as well as her job and life in general. She has a zest that is contagious, and I couldn't help but instantly feel like Perron and I had known one another for a long time - while in fact, we just met briefly to photograph her amazing personal style.
Perron spends a lot of her time Downtown as she works for Talisman Energy and shops a lot in the area when she's not at work. On this particularly beautiful winter-to-spring day she chose to wear a stunning form fitting black and white striped dress that she'll be able to take into Spring/Summer, topped off with a funky Marciano jacket that I couldn't stop drooling over - so perhaps I'll leave you with more on Perron, as I make my way to purchase said jacket for myself?
How would you describe your personal style?
Eclectic and a little bit edgy.
What are some of your influences when it comes to fashion?
Well, my Dad who always dressed "smart", because "why wouldn't you?", and Jackie 'O', not because I could pull off her style, but because she found her own unique style that resonated with who she was and where she was at in her life.
What are some of your favourite stores and shopping destinations in downtown Calgary?
My stress release some days is to go shopping, so I work in the perfect location for that! My favourite haunts are; Marciano, The Gap, Michael Kors, The Bay, Aritzia, Geox, Club Monaco, Nine West, and Shoppers Drug Mart… a new lip gloss can make a bad day seem not so bad!
What are some of your favourite YYC spots?
Divino Bistro is one of my favourite restaurants, I love Starbucks for my daily caffeine fix, Rush Ocean Prime is great for special events, Centini does amazing unique wine tastings, Belgo has great energy for an after work get together, Eau Claire is a great place for a run or walk!
What are some of your favourite trends for Spring/Summer 2014?
Stripes, orange and the mid-calf length for skirts and dresses.
What fashion advice would you give to others?
Don't take yourself too seriously, have fun with fashion, break the rules, show the world who you are through your fashion, dress to make yourself feel amazing.
Why do you choose Calgary as your home? Do you plan on staying here? Why or why not?
Believe it or not, I was born and raised in Calgary… and very proud of it! Because I was born here I have witnessed the transformation of this City and how it grew in to itself. My friends are here, my family is here, job opportunities are fantastic, our playground is the Rockies, sand and surf is a short drive to the Okanagan, it doesn't get much better than this, I'm here to stay.
What do you do for Talisman? How long have you been there?
I've been at Talisman for 3 years and support the company in the role of Events and Employee Engagement Advisor.
What's your favourite part about working downtown?
I  love the energy of business in the downtown core… And the proximity of shopping.
Any hobbies or interests you'd care to share with us?
To help fulfill my creative side, I love to work on home decorating, finding great pieces to create my space. I've also started running and plan to run a half marathon in Las Vegas with my sister this Fall…wish me luck!
What are some of your future aspirations?
I'd like to keep learning and developing in my current career, it truly is my calling and I'd like to experience the world through travel.
Anything else you'd like to add?
Stay true to who you are, in how you dress, the career you choose and how you live your life. It isn't easy, but it is the best gift you can give yourself.
---