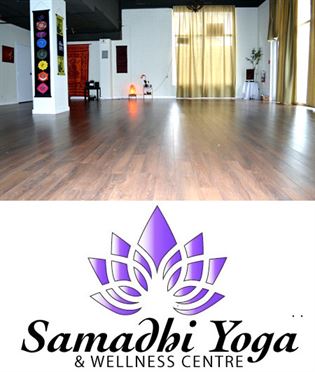 An "Oasis of Serenity", blooming off 5th Avenue and 8th Street, is catching the attention of downtown Calgary. It is popularly known as Samadhi Yoga and Wellness Centre.
Samadhi focuses on yoga while also offering a holistic range of services at the studio such as, a raw food and juice bar, energy healing sessions (reiki, holistic nutrition and reflexology) workshops and wellness treatments including organic facials and relaxation massages. There is also a holistic retail space; selling all natural organic products and hand crafted jewellery.
Anelia Dee started the studio in late 2011, and since then it has become an integral part of the growing downtown community. The welcoming energy and peaceful aura, of the studio, provide an idyllic setting to practice yoga and meditation. The team at Samadhi consists of qualified yoga instructors, registered massage therapists, reiki practitioners, wellness therapists and lastly karma staff.
One of the studio's popular classes is "Happy Hips". A hip opening class, in yoga, corresponds to effective emotional release. Taking a Happy Hip class is an efficient way of alleviating back and knee pain and charging the emotional body for deep healing.
"Yoga unites people and through the studio I want to create a community of healthy, stress-free and happy people." says Anelia.
The materials used in the raw food bar are mostly locally produced and organic. Special attention is paid to clients with food sensitivities, and, vegan and gluten free options are available too. Clients can pre order their smoothies, sandwiches, nori wraps, salads and super foods to pick up after completing their sessions.
Presently, Samadhi is offering new yogis an opportunity to embrace a healthy lifestyle by signing up for thirty days of unlimited yoga for just $40!!!  On a side note, beginners should start with gentle classes such as Hatha Flow, Restorative, Yin and Meditation. Samadhi is open every day with varying class timings and schedules to suit everyone's need.
Samadhi will be offering a new class starting in the New Year known as the "Upside Down and Backwards". To reserve a space or find more details log on to http://www.samadhiwellnesscentre.com/ you can also find them on Facebook.
This has been a guest post by Jovita Dias. Jovita is a communications professional living and working in Downtown Calgary.
---