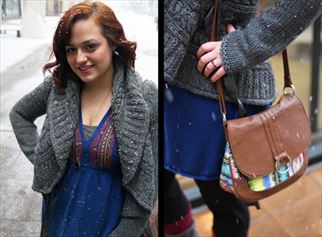 There's a lot of opportunity in the Downtown Core to do some serious people watching, so it's a great thing that one of Mila Bringas-Kewley's favourite things to do is just that. She works full-time at the Shoppers Drug Mart's Beauty Boutique in The Core, where she's been rocking out makeup and helping customers beautify for the past three years.
Alongside all of that she's been able to put in a lot of hours of people watching, which has only lead and helped her feel inspired with her own personal style, which she describes as colourful and fun - just like Rainbow Bright?
And I couldn't agree more. Even Bringas-Kewley's eyeliner is a two-toned work of art, which is something that stemmed all the way back when she was in the fourth grade, when she fell in love with all things artistic. From DIY and crafting projects, experimenting with her makeup, and a serious love of robots, Bringas-Kewley's style choices stem from that same artistic passion.
She combines neutral tones with pops of colour, a bit of pattern in the blue dress which only works so well with her purse choice, and great layering to make her winter wardrobe appropriate and warm for the season. Her bright makeup, accessories and red hair are just the icing on the cake, as she sparkles and leaves traces of colour even in midst of a snow fall.
Has Calgary always been your home and why do you choose to live here?
I'm from Calgary, born and raised here. I love this city and there hasn't been any reason for me to leave. My family is here and I love the distinct separation of seasons, and I think Calgary is such a unique city. We are slowly growing and I'm into the arts which is getting better as well. It's beautiful here - and I love Chinooks!
What are some of your hobbies outside of work?
I like to do crafts and taking something boring and making it different and cool. I like re-creating things. I sometimes make jewlery or headbands, and I like to paint as well.
Where do you shop Downtown?
I like H&M, Jack & Elliot for accessories and Art Central is great - you can get high quality and artsy things there. I also love Winners. But no matter what, I'm always looking for new shoes, even though I probably shouldn't be! I have over 50 pairs right now.
How do you think we can keep our arts community growing and flourishing?
Calgary is doing a good job, with things like Market Collective, and with cool public art going up around the city.
Do you have any favourite coffee shops in the Downtown Core? 
Deville Coffee at Fashion Central and Art Central. It's high quality coffee that's always really delicious.
What's your favourite activity to partake in when you're Downtown and not working?
One of my guilty pleasures is to people watch. It helps me feel inspired with my fashion. I also love to longboard around Downtown, which I've been doing for the past two years now. It's super fun and makes it that much faster to get around the city.
Why do you enjoy working Downtown?
I love the fast pace of downtown and the people are nice. I love that it's central and easy to get to, and of course, I love seeing people's fashion sense. The fashion changes quite a bit in the different districts of the city, which is interesting.
What are some of your future aspirations?
I haven't quite decided yet for a profession, although I want to follow something that's creative, being around creative people and making the world beautiful around me in some way.
I'm a really laid back person and like to take things as they come, so we'll see. Although for this year I plan to be more organized!
How would you describe your personal style?
I would hope it to be artsy. I like to always wear dresses, and having fun with my makeup. I love colours and trying new things. I can be creative with my makeup and it changes how you feel about yourself.
How do you stay stylish when it's really cold outside? 
Definitely have a few cute pairs of boots and layers! Great winter accessories are key as well.
Any style advice? 
Even if you have the most well put-together outfit but don't feel good in your own skin, the outfit won't quite work and it ruins it. So maybe fake it until you make it?
Anything else you'd like to add?
I'm always on the lookout for the perfect Caesar. Also, my real name - Milagros -means Miracle in Spanish.
---