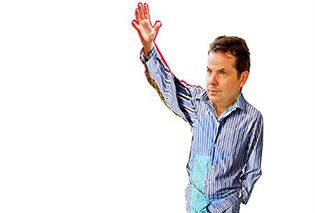 Bruce McCulloch's new one man show Young Drunk Punk had it's world premiere last night at the Martha Cohen Theatre as a part of the High Performance Rodeo and it proved to be a hilarious evening of theatre.
Young Drunk Punk is an autobiographical one-man show from the Kids in The Hall member who lived in Calgary before moving to Toronto and starting the sketch group that would eventually put him on the map.
The show is a goofy mix of song, dance and monologue. Hilarious and heart warming, the show is a must-see for fans of The Kids In The Hall and for fans of irreverent humour.
The show had me laughing hysterically at times, and contemplating relationships and family at others. If the show had any drawbacks, is that this was the first show and there were a few hiccups in the dialog, but at almost 1.5 hour running time I'll excuse McCulloch for fudging a word here and there.
Young Drunk Punk runs tonight (Friday, Jan 17th) and Saturday the 18th only, so act fast to ensure you see this show before it's too late.
---