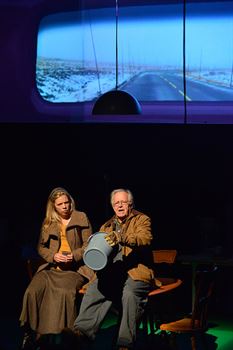 The legal battles of biotech giant Monsanto and Saskatchewan farmer Percy Schmeiser is something that most people remember hearing about. Vaguely, at least. Playwright Annabel Soutar created a docudrama, comprising interviews with all of the pertinent players, including Schmeiser, Monsanto representatives, experts on genetically Modified foods, and farmers within the community. Add the deft direction of Chris Abraham and starring Eric Peterson, best known for his role in Corner Gas, along with a cast of amazing talent and you get Porte Parole's Seeds presented by Theatre Junction Grand.
The first thing you'll notice about the production is the use of multimedia. The play opens to members of the cast asking members of the audience various questions, such as: When have you felt apart from nature? a camera captures this and projects on a screen at the back of the stage. Seeds is full of multimedia, right down to the floor. Julie Fox's set design has the entire floor in green, which then turns into a green screen later on in the play. But at no point does Elysha Poirier's media design go over the top. It is well though out and neatly rendered.
The play follows Sutar (played by Liisa Repo-Martell) as she conducts interviews and tries her best to show all sides of the story. She strives to show a balanced view, but as it also was illustrated in the media at the time, the case really was depicted as in the line of David vs Goliath. We all want to cheer for the little guy who in this case was getting sued for patent infringement. The play does veer into the bigger seed of the narrative, which is investigating and conducting interviews on whether GMO foods are actually safe. At the end of the story, you are left to make your own judgement on both the case and the bigger picture. Is Monsanto just trying to intimidate the smaller farmers with the threat of lawsuits? Do they really sue first and ask questions later? Or was Schmeiser trying to get a seed that was resistant to roundup without paying for it. These are all questions that the audience is left with.
What makes Seeds a poignant and compelling piece of theatre is how intricately all the elements fit together, coupled with the fact that the ensemble slips into each role seamlessly. It's a well researched, eye opening look into the industry of GMOs and at its heart is great storytelling.
Seeds, by Porte Parole, presented by Theatre Junction Grand as two more runs. Tickets and more information is available online. Porte Parole will also be part of Theatre Junction's RBC Emerging Artist Workshop Series on Saturday, more information is available here.
Photo Credit: Porte Parole Documentary Theatre
---