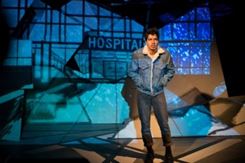 The thing that will strike you the most about Downstage's presentation of Wajdi Mouawad's A Bomb in the Heart is Erin Gruber's lovely production design. The projections in this production are beautiful and well done. The set design is innovative and fits nicely in the small space at the EPCOR CENTRE's Motel. The narrative, on the other hand will leave you confused though sated for poetry.
The play opens to Wahab (Ishan Davé) talking about the fact that you don't know when a story begins, you don't know when you're starting a story. Wahab then launches into a story of being awakened in the middle of the night and having to fight a snow storm to reach the hospital room of his dying mother. It's interspliced with his childhood visions and memories of the violence of his war torn country.
A Bomb in the Heart is full of poetic language that creates little hooks that the audience can hang on to. But the play is abstract to the point of confusion. The play is quite beautiful, but the narrative washes over the audience and doesn't feature quite enough concrete information to be poignant. The viewer walks out of the theatre feeling a bit lost, knowing that Wahab battles demons in his mind, but unsure of the implications of those battles.
The play is a beautiful in its design and language, but lacks a solid narrative to pull the reader through the whole production.
Downstage's A Bomb in the Heart plays until February 15th at the EPCOR CENTRE'S Motel. More information is available online.
Photo credit: Benjamin Laird
---