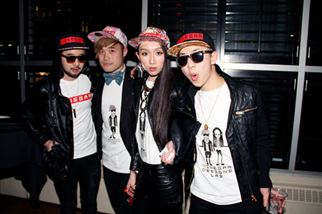 One of the main reasons that I love attending various events around the city - those circled around fashion in particular - is that I love scoping out what everyone has chosen to wear for the evening. As the Street Style Huntress, I enjoy seeing how people choose to express themselves with and through fashion, whether it's super fancy, sparkly, casual or adorned with a baseball cap.
That's exactly why events such as Glenbow Museum's Schmancy Style is right up my alley. The second annual event was once again held at Belgo Brasserie, and the fashion event's sole purpose was to help attendees garner inspiration to the signature fundraiser, Schmancy, which this year is taking place on February 22 at Glenbow Museum, and will feature the one and only Bryan Adams.
But before we get to the main event, let's bring it back to Schmancy Style and the great fashion that was spotted. The event featured an exclusive glimpse of the latest fashions from local Calgary leather designers - Bano eeMee, Farlee Mowat, Kat Marks, Brenda Dolphin, Eric Goodwin, Gabriel Moody, Marina Ortman and Malika Rajani - in order to celebrate Glenbow's winter exhibition Worn to be Wild: The Black Leather Jacket (February 8 - May 4, 2022).
As much as the event was inspired and led by leather, the guests could also be found in prints and patterns, a touch of colour, but mostly in black - which was certainly appropriate and much called for, in my personal opinion at least.
And now that everyone is hopefully inspired and fashion fueled, see you all at the main event!
---