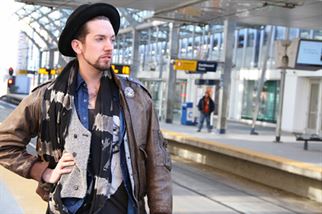 I first spotted Kyle Nylund on the pages of FFWD Magazine in a stunning photograph where he was wearing a dress made out of newspapers. Did I mention he designed and created said dress?
I was instantly intrigued and couldn't wait for the day that I'd meet this talented artist and interesting individual. Which lead to the second spotting of Nylund in our lovely city as he hosted a Runway Monthly fashion show, once again adorned in amazing makeup and a beautiful artistic dress.
But it took a little while longer before Nylund and I officially met, and since then, I've been able to capture his amazing and interesting personal style at a few events. So when it came time to bump into Nylund and photograph a full feature, I couldn't think of a better place than on the C-train - and so we did.
He's a visual artist, fashion designer, and stylist - and now street style star, although who are we kidding, he always has been!
Check out Nylund's website for more about him and his work. http://kylenylund.com
How would you describe your personal style? 
My personal style has been shaped by my interests. I was always interested in French Decor at the turn of the century, best known as 'Art Nouveau'. You can see this influence in a lot of my jewellery and especially in my home. I also love classic menswear of the 1950's. There's something very powerful about slick parted hair, polished shoes, and pencil suits. Lastly I'm very influenced by my love to dance. I've started wearing clothes that I can really move in.
The short answer is 'eclectic'.
What are some of your influences when it comes to fashion? 
My mother was very beautiful, she took very good care of her skin and hair and just like every little gay boy, I really idolized her. She loved to wear big jewellery, big hats and sparkly…anything.
I became interested in fashion because of her. Later on when I was a little older I used to watch fashion television and be totally blown away by the designers. I always loved John Galliano and Alexander McQueen. I took the day off work when McQueen died, I was so upset. I went to New York when I was 21 and saw McQueen's 'Shipwreck' dress in real life at the Met, I was reduced to tears. He is one of the reasons I keep creating wearable art.
What are some of your favourite stores and shopping destinations?
I find it transitions season to season and year to year. I've never been one to spend a ton of money on one piece. Don't get me wrong, I spent a lot of money on clothes, but I've never spent $600 on a jacket. That being said I always have my eye open for a great deal and anything kinda weird. I do really love TopMan (Editor's note: in Hudson's Bay) I have to say. I love that skinny hipster look, I find their clothes are very flattering to my build.
What are some of your favourite YYC spots? 
I love spending time on Princess Island Park in the summer, and I absolutely love eating out. Calgary has good restaurants, too many to name,  but I'll name a few - Ox and Angela, Una, Market, Lina's, Double Zero. (Editor's note: see BigTasteCalgary.com for more info on the downtown dining festival featuring Ox & Angela and Double Zero Pizza)
What are some of your favourite trends for Spring/Summer 2014? 
Aren't tea length skirts cute?! I heart them. I'm going to insist all my girlfriends wear tea length skirts in order to hang out with me. The modest low heeled pump with socks is back too - cirque 1980's Molly Ringwald (whatever happened to her?). It takes a, lets say, 'fashion savvy girl' to pull it off, but when done right - fabulous! There seems to be a lot of black and white for spring on the runway this year too. I don't think you can ever go wrong with black and white (The horse race in 'My Fair Lady' comes to mind…. the most beautiful example of black and white fantasticalness).
What fashion advice would you give to others?
Dress to your body! 'I love you honey but you cannot wear those pants' goes through my head twice a day. If you have big legs take off those red jeans. Seriously.
I think woman, and men, for that matter, of any size or shape can look great if you know how to dress your build. Believe it or not we ALL have limitations, even models. I was graced with narrow shoulders, excellent for rescuing children from wells. You'll rarely catch me in a t-shirt. I find either full sleeves or no sleeves help negate this. A mid rise pant can clean up an expanding Christmas waistline, and so forth. Actually look at yourself in the mirror and ask yourself if this 'trend' is for you. If the less current piece is the one that flatters your build, go for that. You'll always look and feel better than if you try and force fashion upon yourself.
Where were you born and raised?
On a small farm outside of the small town of Sexsmith, which is outside of the small City of Grand Prairie, but don't tell anyone. The height of fashion there is grey sweatpants and the only art I ever saw were painting of tractors entitled 'Tractors'.
Why do you choose Calgary as your home? 
I think it choose me. I came here to go to ACAD where I got my Bachelor of Fine Art in Fibre (like, textiles, not cereal) and I stayed because I fell in love (with a human, not the city) … But now I'm here because I have such a wonderful network of friends and a strong sense of community. I also think Calgary is going through its renaissance if you will. I've seen so much cultural growth here it's exciting, and exciting to be a part of.
Do you plan on staying here, why/why not?
For now. I haven't lived very many places and so I do feel drawn to the idea of going somewhere else. That being said, as much as I admire people who have that Gypsy spirit, I am not one of those people. I like to have a strong home base, and Calgary has provided that for me. I have a beautiful home and studio, really those are the things I need to be happy.
You wear many hats - fashion designer, stylist, painter - what keeps you motivated to continue making your art? 
I have (unfortunately…) never really been motivated by money. My motivational style is very introspective. I make art to understand myself better and to feed the flames inside me. Being highly creative, I think any highly creative individual would tell you, feels like an affliction. I get really depressed if I don't take time to create. I know I have to create something (anything…)  constantly so I don't go completely bananas. It's probably why I've dabbled in every art form.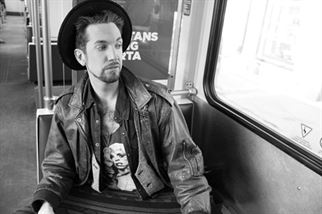 When did you start working as a visual artist? 
After college graduation I started wrapping my head around the fact that I was no longer a student and was actually an artist. That was five years ago. In that time I've done two collections for Alberta Fashion week, had several painting exhibitions, taught a contemporary hula hoop dance class for the City of Calgary, traveled with a Fire hula hoop troupe, and had a line of silk screen printed scarves. I don't really know whats next - but I hope it's a nap.
How did you get into personal styling, and what's your favourite aspect of this endeavour?
I worked in Visual Presentations at the Bay for three years, in addition to several other retail jobs. This really gave me the opportunity to hone my skills. My favourite part of personal styling is working with the individual. I do think you can have your cake and eat it too. There's always a way to blend dressing your body with current trends, you just have to know how.
What are some of your future aspirations? Anything you'd like to add?
I really want to start a creative culture blog. I read a lot of blogs that are great but not often from the perspective of actual practicing artists. I think it would be great to share my knowledge along with my struggles and really connect with the community. Other future aspirations include possibly getting a masters in Fine Art or some related field, becoming a better Vogue dancer, and having a snack.
Be sure to check out my work at the upcoming event Make Fashion. I'm teaming up with glass artist Shawn Ayster and tech-geek Tony Grimes to create a wearable, light up gown partially made of glass. International wearable artists from all over the world are coming, it should be a really good show.
---