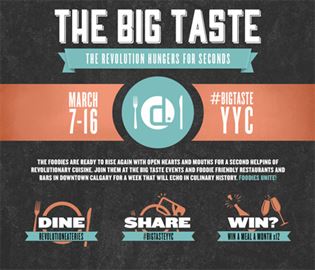 Another year of culinary revolution is upon us! The Big Taste 2014 is rapidly approaching and we want to give you a taste of the action. (get it?)
For the uninitiated, the Big Taste is a 10-day dining festival in the heart of Downtown Calgary happening March 7th to 16th. Some of Calgary's top restaurants are rolling up their sleeves to bring the foodies of Calgary a number of unique dining experiences their taste buds won't soon forget!
Big Taste Culinary Events
If you're familiar with music festivals, then you already know they are the place to go to hear music you normally wouldn't have a chance to hear, all in one place! The same goes for the Big Taste dining festival, except with food! This year's culinary events feature exclusive access to food and menus that aren't normally available. Additionally, chefs, wine-makers from B.C. Wines, and special guest food critics are on hand to explain the various dishes and wine pairings to increase your culinary knowledge.
All of the events are already sold out (really sorry). If you're looking for an inside track next year, be sure to sign up for our newsletter to be the first to know when tickets for 2015 go on sale.
Prix Fixe
If a fancy event is not your thing, but you'd still like to sink your teeth in to Calgary's finest restaurants, then the Prix Fixe option is for you! French for 'Fixed Price', this option gives diners and opportunity to dine at over 70 restaurants in Downtown Calgary, 17th Avenue, 4th street, Inglewood and Kensington for a great price!
Each participating restaurant offers unique 3-course meals at either $25, $35 or $65 ($15 or $25 for lunch). This way you can enjoy an amazing 3-course meal, without paying a 3-course bill.
This is a great way to try that new restaurant you've been hearing about, or visit an old favourite without breaking the bank.
Here's what to do: Go to the Big Taste website, scroll through the list of participating restaurants, view their special Big Taste menu and then make a reservation! These menus are only available between March 7th and 16th so act fast to ensure a table!
#BigTasteYYC Contest
For foodies who are technologically inclined, you've got a chance to win a year a free meals! That's right, tag your tweets, Facebook posts and Instagram pics #BigTasteYYC and you'll be entered to win twelve (12) $50 gift cards from participating Big Taste restaurants. You're already taking pictures of your food (don't deny it, we see you) so why not make it a little more interesting?
To put a cherry on top of this already delicious sundae of food and prizes, we'll be monitoring the #BigTasteYYC hashtag and sharing our favourite photos and tweets. You'll be full AND famous!
-
We hope to see you downtown for this year's event. If you need help finding a place to park, try http://parking.downtowncalgary.com to use our parking tool. You can search by address, landmark or business name and our tool will show you nearby parking lots, parkades and even show you the available street parking! It's a handy tool, but please remember not to drink and drive.
---