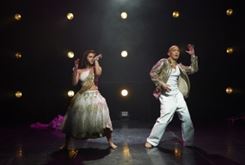 At the heart of it, Alberta Theatre Projects presentation of Anita Majumdar's Same Same But Different is the pursuit of fairer, lighter skin. Having fair skin means more opportunities and greater access to a variety of privileges.
This theme of skin colour is told in two sets, the first is about Aisha (Anita Majumdar) who is a Vancouver born actress who is filming a variety of Bollywood films. When backup dancer Ben (Nicco Lorenzo Garcia) is promoted to have a solo, he gets up close with Aisha and forces her to confront her issues with her skin colour and her family. In the second half we rewind thirty years and meet Aisha's mom Kabira (also played by Majumdar) who is trying her hand at Bollywood back up singing in a recording studio. Here she meets Felipe, an American musician who is trying to make some money before going to the Philippines.
Same Same But Different presents an interesting conversation from a distinct point of view but the play is plagued with a lot of issues. The first half features some really great dancing from both Majumdar and Garcia but the telling of the narrative is choppy and fails to create any real connection with the characters. Aisha comes off as a spoiled, dramatic, whiner who complains about the colour of her skin and her situation. Ben borders on stalker, as he speaks about going to the movies with Aisha's mom and visiting her home address in Vancouver. Because there isn't a real link of empathy that is forged between the audience and these characters, we wind up feeling separated from the conflicts that they are experiencing.
The second half, with the introduction of Kabira and Felipe is more compelling and their situations are depicted more succinctly. This allows the audience to develop more of a connection to the two, and the connection between them appears to be genuine. The connection between Aisha and Kabira isn't depicted, and it isn't clear that they are mother and daughter.
The play is bogged down by length and a lack of connection to the characters in the first half. By contrast Majumdar and Garcia are energetic and compelling dancers and display an amazing versatility in their portrayal of both their characters. They both have great talent but it doesn't make up for the great flaws in Same Same But Different.
Same Same But Different is part of the final edition of the Enbridge playRites Festival of new Canadian plays. More information is available at atplive.com
Photo: Anita Majumdar and Nicco Lorenzo Garcia
Credit: Michael Cooper
---