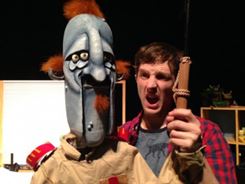 Phineas Walsh is nine years old, but he sure doesn't seem like it. He's worried about big problems, the problems that humans are causing creatures on the planet. Everything from orangutans losing their habitat because of producing palm oil, to silkworms dying to make scarves. Phineas is character at the centre of Downstage's My Family and Other Endangered Species and the audience is taken through a narrative of Phineas' anxieties.
The play tells the story of Phineas and how he feels like the earth and all the creatures in it are suffering, but it also reveals a larger story of Phineas and his family. His absent journalist father and busy mother are the roots of his worries, and he expresses it by trying to save the class frog from his captivity. It's a compelling story, told with absolute inventiveness by playwrights and performers Braden Griffiths and Ellen Close, who both switch in and out of roles throughout the play.
Both actors have made changes to their appearances to appear drastically younger and the writing within the narrative depicts the thoughts of a young mind. The play also incorporates puppets, designed and built by Griffiths with help from Peter Balkwill of the Old Trout Puppet Workshop. The puppets are an energetic and lovely addition, making appearance when Phineas is telling his story of another planet and their destructive creatures.
Riley Miljan's set design allows the scenes to change location from Phineas' house, to the classroom to Phineas' bedroom, with a simple flip to change the chalkboard to a bulletin board. The chairs fit into the table, the bed hides puppets, and it's all very well designed. The sound design and composition by Peter Moller integrates into the storyline, setting the mood within the narrative. T. Erin Gruber's projections are beautiful and fitting as they never detract from the telling on the story, simply projected on blinds in the backdrop and on the flipping chalkboard.
My Family and Other Endangered Species is a great telling of finding hope and joy within the little things and taking small steps to bring about change on the big things. It is an engaging piece of theatre from Downstage, a lovely story about struggling to understand the things that don't make logical sense, told with puppets.
Downstage's My Family and Other Endangered Species runs at the Big Secret Theatre until May 3rd. More information is available online.
---