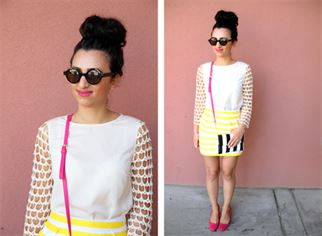 A week ago I stumbled upon a list of hit songs from 15 years ago - 1999 - which included Len's Steal My Sunshine. The second I saw the title, the song was stuck in my head for the rest of the day, just like it used to get stuck in my head back-in-the day when I was a young and carefree teenager. But I'll welcome it now too, although it's the real sunshine that is really making me content and excited for a summer of amazing street style in YYC.
With the turn in weather finally comes the time for spring and summer street style that is usually full of colour, print and a lot of interesting ensembles that you can actually view with the absence of winter layers. As most people's moods enhance and summer's carefree vibe sets in, it can all be seen in the clothing choices on the streets.
My only advice is to always bring a light-weight jacket, as there were many days where I left with camera in tow as the sun sparkled, and returned in a rainstorm - the joys of June in our lovely city!
On my travels in the Downtown core I was able to find florals, which are always perfect and appropriate for the season, a lot of punches of colour, bright lipstick, dresses and skirts, a kick ass bow tie and a leather baseball cap - which is all hopefully enough to help inspire the rest of you to have a summer that is full of amazing outfits!
---