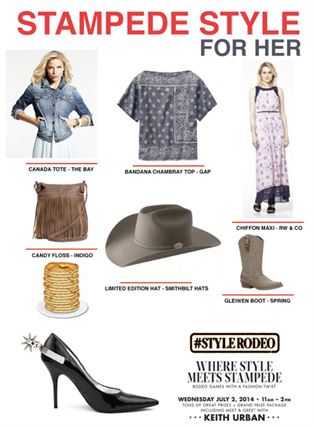 It is time to pull on your boots and and perch a gorgeous cowboy hat on your head! Stampede Week is here! While the Stampede is mostly known for the wild parties, the midway rides and the legendary pancake breakfasts, Stampede is also a time where people show off their spin on western wear. Whether you go for classic country style or blinged out like a Stampede Princess, it seems that you can really do no wrong during the biggest city-wide costume party.
If you are unsure however, of how to kickstart your Stampede wardrobe I have some great starter items that will keep you looking fresh for the entire 10 days and can be easily mixed and matched with your existing wardrobe. Everything I have found here is quite neutral so go crazy with colour accessories!
The bandana chambray shirt from GAP is the perfect modern twist on a traditional women's western shirt. It has a very flattering t-shirt like fit but is made of a soft chambray making it perfect for day-time Stampeding all the way to a swank night-time event! Double up on your denim with a great jean jacket like this classic style from GUESS. It is the one time of year that most of us can truly don a Canadian Tuxedo so go for it!
A flowy dress from RW & Co. is perfect for staying cool throughout Stampede. The dress has a slight Western vibe to it, meaning you can re-purpose this dress later for summer weddings or girls nite out. It would look great with a pair of heeled cowboy boots like the Gliewen Boot from Spring or a denim vest.
Accessories are key for dressing up plain old denim to give everything the perfect Stampede look. You cannot go wrong with a beautiful Smithbilt hat to compliment your look. It will be totally worth the hat hair you might endure post-Stampede but you will look amazing in one of these legendary and extremely well-made hats. Bring a bit of cowboy fringe to your look with the Hippy Tribe bag from Roots. Stash away all of your Stampede essentials so you are never left hanging; ie. cab fare, keys, hand sanitizer, lipstick and midway tickets.
If you are looking for more style tips, you'll want to head down to The CORE (TD Square/Holt Renfrew) for the CORE's Stampede-themed, Style Rodeo. This style-savvy competition includes different events within the CORE shopping centre, for a chance to win amazing prizes from select retailers in addition to the grand prize - a meet & greet with Keith Urban!
The Style Rodeo will be located on the second level (+15) of the centre in front of Kernals and Holt Renfrew. The contest will include four competitions: Shoe Toss, Eating Contest, Wild Mannequin Dressing and Garment Bag Race. Competitors must fill out a ballot to participate at each station, which will then be included in a draw for a chance to win the grand prize, in addition to smaller prizes provided by sponsoring retailers. Prizes are non-transferable and there is no cost to enter. Multiple entries for the grand prize draw and additional prizes are permitted.
Event Details:
What: The CORE's Style Rodeo
Where: The CORE (TD Square/Holt Renfrew) second level (+15) in front of Kernals and Holt Renfrew
When: Wednesday, July 2, 2014. 11:00am – 2:00pm
Where to Buy:
Bandana Chambray Shirt, Gap 
Printed Chiffon Maxi Dress, RW&Co.
Gleiwen Boot, Spring Shoes
The Hippy Tribe Bag, Roots
Limited Edition Stampede Hat, Smithbilt Hats
Britney Denim Jacket, GUESS
---