I first met Anna Lake a few years ago while we both worked together for the same company and she was only a few cubicles away from me. No matter what day it was, or the occasion, Lake always had an adorable outfit on and really showcased to the world her bright and fun personal style and personality.
Over the years she's experimented with hair colour and style, became a mom, and moved to a Marketing position at the Glenbow Museum, among many other life events. But her personal style has stayed consistently colourful and fabulous, and my personal favourite is that she also isn't ever afraid to rock a bright and punchy lip colour. Her mantra is to do it "if the mood fits" - making her the perfect Street Style Huntress subject for lovely June!
How would you describe your personal style?
I don't live and die fashion; I think I just have an appreciation for beautiful things and beautiful design. I lean towards well-fitted basics, lots of horizontal stripes, a bright lip and the occasional scrunchie if the mood fits.
What are some of your influences when it comes to fashion?
I love fashion blogs by Garance Dore, Atlantic-Pacific, Amber Venz and Scott Schuman (The Sartorialist), to name a few. In terms of fashion idols, Annie Clark is my go-to gal.
What are some of your favourite trends for Summer 2014?
I'm loving all the crop tops, lacey ultra feminine shirts, baggy/boxy tops, round sunglasses, unique patterns and calf length skirts/dresses.
What fashion advice would you give to others?
Not that I'm a qualified fashion advice-giver, but I would say, wear clothes that make you feel the most beautiful regardless of what other people think or what is 'trendy'.
What are some of your favourite stores and shopping destinations in Calgary?
I can always count on Purr and TopShop if I need a wardrobe pick me up. If I'm looking for something a little more unique and original, I will hit up some consignment stores or take it online to find something truly special.
What are some of your favourite YYC spots?
Prince's Island Park for ice-cream and to feed the ducks, East Village for yoga on Tuesdays, The Core when I forget to bring event clothes or when I rip a hole in the butt of my pants (true story) and Glenbow for great art.
Where were you born and raised?
Born in Calgary, raised in Calgary, moved to Spain at 17, then Quito, Ecuador at 22 now back to Calgary.
Why do you choose Calgary as your home? Do you plan on staying here, why/why not?
I stay in Calgary for my baby-daddy and because I have great friends and an amazing job. One day, it is my dream to move to the west coast and spend the rest of my days surfing, fishing and camping on the beach.
How long have you been with the Glenbow and what is your position there?
I have worked at Glenbow since September 2010. I work as the Marketing Specialist.
How do you think Glenbow specifically influences the Downtown Core?
I am biased, but in terms of visual art, there is no better place in Calgary than Glenbow. Contemporary art exhibitions and stunning artifacts dating back centuries fill every nook and cranny. We have an extensive permanent collection and an ever-changing array of traveling exhibitions, there truly is something for everyone-  the history buff, art lover and pop culture fanatic. Glenbow gives Downtown dwellers an escape from their cubicle and an opportunity to lose themselves in art, learn about a new artist or art technique or explore the hundreds of thousands of artifacts hidden away on a behind the scenes tour.
What else would you like to see in Downtown Calgary?
Downtown in the summer rules. Stephen Avenue just comes alive and all of the vendors really make it a 'destination.' Would really love to be able to buy some fruit and veg on my ride home from downtown. Haven't seen any fruit stands yet this year.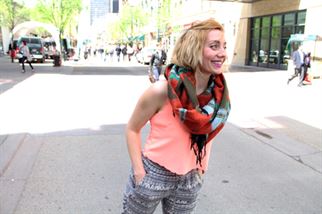 How do you balance being a mom and your career? What is the biggest hardship and what advice would you give to other moms, especially on remaining stylish?
Being a mom and having a career is the best. One thing I always promised myself is that I would never let being a mom stop me from being who I am and loving what I love, although it's easy to get bogged down with napping, breastfeeding, potty-training, etc. I  decided long ago to just bring my babes with me. Pop some ear protection on and take them to a show, bring them to art galleries, take them on bike rides, have them miss a nap once in a while. You can find things to grow their imagination all around, especially downtown. Your body definitely changes once you become a mom so my advice would be to make sure your clothes are tailored to your new figure (which is probably even more beautiful than it was before 😉
What are some of your future aspirations?
One dream that I am working towards is packing my crew up and moving abroad for at least 4 months. Uruguay seems to be calling my name these days.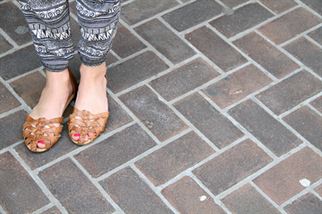 ---